Millermatic 135 Wire feed question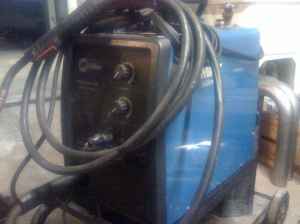 question about a millermatic 135 submitted by reader...
I'm a fifty-fivei-sh former machinist/motocrosser/greasemonkey who finally got a "clean" job some years back.
I just bought a super clean (ebay) Millermatic 135 for patching up broken welds on hospital beds, and corral panels, light stuff. Anyway, with new flux core wire and a new (.030) tip I noticed the wire feed seemingly "pulse" at the arc.
Straightening out the whip helps and sometimes it feeds just fine. Drag on the wire roll is minimal short of freewheeling, drive wheel pressure is set at "three", I can't stall the wire with thumb and forefinger at the tip anyway.
Tweaking voltage and feed rate doesn't change anything. I get expected results (slow and low get short stickout or burnback, fast and high gets the opposite) The machine looks like someone used it for one job then sold it.
Could the liner be bad? I DO have a new liner to try.
I'm a noob to mig having learned gas and stick welding back when they taught it high school "Metal Shop".(I think Niagra Falls was brand new and Disneyland still had orange groves around it. Thanks for your help.
weldingtipsandtricks
I can think of 3 things you should to try.....
first, try using an .035 tip. You didnt say what size wire you were using. I am thinking you might be running .035" wire with a worn out .030 tip so that might be the problem.
If your tip is restricting when it gets energized, that could be a problem.
second, check your drive rollers to make sure they are aligned properly. This is something that is not checked often enough. I have seen drive rollers get out of line pretty bad over time and cause the wire to "jump the tracks" and pulse like you are talking about.
third.... change the liner. My guess is Its probably the liner.
I once had a conversation with a welding engineer who was overseeing an automated mig welding process. The welding machine starting having wire feeder pulsing problems and to fix the problem, he required his welders to change the mig liner every time they ran out a spool of wire.
that might be overkill, but his wire feeding issues disappeared.
ps...one more thought is to get some knurled drive rollers and whatever drive rollers you use, dont tighten too much
---