Starting a Welding Business
"When scrap prices go outa sight, so do manhole covers!.. "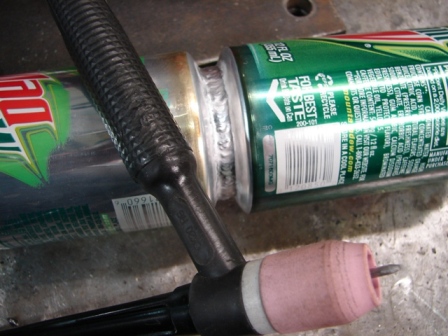 "CNC plasma shape cutters...now there's a biz op!.. "
If you are thinking of Starting a Welding Business and you Can Weld Aluminum Cans together, You might just have a shot.
Starting a Welding Business ? I have had a side welding business for about 10 years now. Here is what I tell people when they ask about starting their own welding business:
First, find 5 to 10 machine shops that are pretty much 2 or 3 man operations. Then, Along with a business card, drop off a small sample weld. (Be creative here) I knew a guy who would weld single edge razor blades together as his calling card. He pretty much sucked at welding other than that but the point is it impressed a lot of people... and it was memorable. In marketing 101 they call this lumpy mail. Another idea is welding some beer or coke cans together like in the pic above. How many other welding shops do you think left welded razor blades or welded aluminum cans with a business card? None! I guarantee you none!
Anyway, these small machine shops usually have people who can weld but are not really welders. They are machinists. Their time is much better spent machining. When orders come in for intricate parts made from expensive materials and with thousands of dollars of machining required, They will gladly give you the welding work to keep their jack leg welder from screwing the parts up. Who wants to pay premium prices for materials and machining labor only to have an amateur welder cobble up the part by migging where he should tig and tigging where he should mig.
Now obviously, if you can't weld razor blades or beer cans in the first place, you wouldn't try that. (and you might even need to reconsider starting a welding business at all) But what about other objects? What about two small pieces of diamond plate? Say 2 1-1 /2 inch squares so that it would be about the size of a business card. You could even have your contact info etched on it. Don't forget to run beads on the edges also. If this all seems too difficult then guess what? Don't quit your day job. You will need to be able to do this and more if you want your own welding business.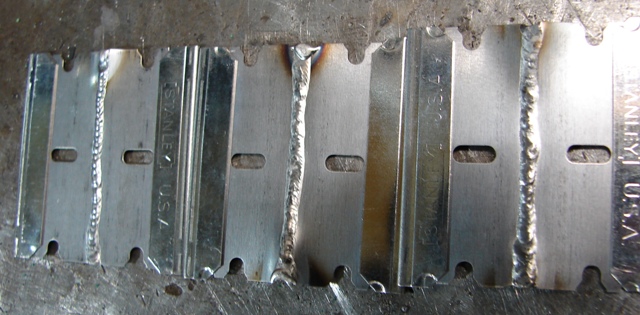 ---
starting a welding business and buying welders
Starting a welding business/Pricing Jobs
One of the biggest stumbling blocks for starting a welding business is how to price jobs. First let me advise you to set a minimum. Something Like 30 bucks even for a 5 minute job. Make a big sign that states MINIMUM FEE FOR A JOB IS 30 BUCKS NO MATTER WHAT. Why? You need something to cull out nuisance jobs like cracked decks on a 50 dollar lawn mower for your brother in law.
Eventually you will have enough work where you will have to shut down work on a good paying job in order to do a small "walk in" type job. You will be losing money to pull off of the high paying job to do a small job for someone unless you set the 30 dollar minimum.
But how do you price other jobs?
Most of that comes with experience but here are some tips;I like to take on jobs that are labor only.
That is the beautiful thing about working for small machine shops. They buy the material and supply labor for machining. You just pick up the parts and assemble and weld. You only have to figure the labor and you don't have to take on the risk of buying material and then have to wait to get paid. You will still have to wait on payment buy you only risk your time, not money and time.
For tig welding start at one dollar per inch of weld plus a dollar per tack weld. (Remember that for round parts, multiply the diameter by 3.14) This should be very worthwhile for you if you get the job. For multipass welds like for pipe welding, figure in every pass. For example for 6 inch schedule 40 pipe, it might take 3 passes. That is approximately 18 inches per pass. 3 x 18 =54. Add another 4 dollars for 4 tacks and you are up to 58. 58 bucks per 6 inch pipe weld. sounds a little low to me but Its a starting place.
For mig jobs you can drop the price a bit…or not… it really depends on a lot of different things like material type and fixturing. For example, some stainless steel parts might require shielding gas on the back side thereby slowing you down a bit and costing you more on Argon.

Starting a Welding Business/Equipment
Equipment: Bare bones, you need a good Tig Machine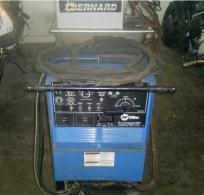 and a good Mig Machine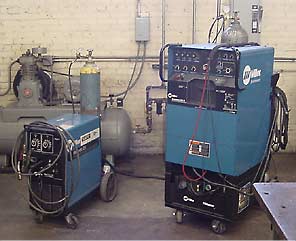 If you would like a quality machine that has great resale value, and great customer support, Miller welding equipment is the way to go.
For a great Tig Welder, my advice would be shop Ebay for a good used Miller Syncrowave 250. If you can snag one for around 1500 bucks that has a water cooler, torch, and all the other stuff like ground clamp etc., you will be doing great. I had a Syncrowave that I bought new and sold after 5 years of use for pretty close to what I paid. I believe they are the best value out there and one of the best tig/stick welders made.
For a Great Mig welder,Again…shop Ebay for a used Millermatic 250 or 251. Try to snag one for around $750-$1000. But if you find one that is like new for $1100, thats not a bad deal either.

1/05/12 update**** I just got hold of a brand new Hobart IronMan 230 along with spool gun. Its available at Northern Tool all for around $1600. And its a great value and welds good.
you can see a Video here of the IronMan 230 mig welding aluminum with a spool gun
You will also need an air compressor, some grinders, hand tools and a metal workbench.If you get involved with any food beverage stainless steel work, you will need a stainless steel table, You can get one at Sams.
More Tips for Starting a welding Business
Here are some more random but valuable tips for starting a welding business:
Tig rods…you need a few pounds each of E70S2 mild steel rod, ER308 stainless steel rod, and 4043 aluminum rod. You need both 1/16 and 3/32 diameter. You might even want to have some .030" stainless on hand for precision. You can strip off some mig wire if you need to use small diameter mild steel.
Mig wire… for starters just get a roll of E70S6 in 035" diameter.
Gases… 1 argon for Tig, 1 50/50 argon/helium for Tig aluminum, 1 75/25 argon/co2 for mig.
Consumables… a good supply of grinding and sanding discs
Welding table… eventually, you will want to have a good heavy duty welding table with a really heavy plate for a top (like ¾ inch or so) but in a pinch, you can buy one of the foldable metal welding tables. Search Google or EBay for "portable welding table" and you will find a few choices.
---