---
Get your FREE MIG Welding Cheat Code book
And FREE
4 Video Mini Course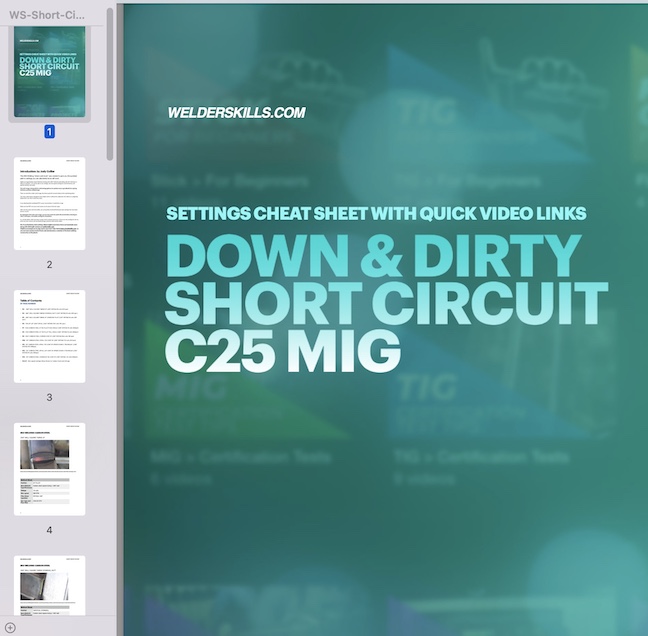 MIG Charts and calculators like the ones Miller has can be helpful in getting you in the ball park for flat welding on the workbench.
… but mig calculators fall down hard when it comes to welding uphill and overhead.
This new MIG Cheat Code book takes a MIG calculator to the next level for short circuit mig settings.
It not only shows exact proven settings for different thicknesses and all positions, but also has clickable links that take you to short concise videos that show technique and arc shots too.
All you need to do to get this free MIG cheat code download is enter your email below.

What happens after you enter your email and press the submit button?
You will immediately see a thank you page with the download link for your MIG cheat code pdf.
No hoops to jump thru.
Just click the link and boom. The pdf is yours and you can even share it with friends if you want to.
I suggest you download it with your phone so you can use it like a quick MIG calculator.
..but If you download from a computer, you can easily send it to your phone and save it as a handy resource just like you saw me do in the video above.
What about the MIG mini course?
Keep an eye out for 4 emails.  One per day for 4 days.
if you don't see an email within 24 hours, you might need to check your spam folder, junk folder,  or promotions tab.
The 4 course topics are:
The unbelievable difference clean metal makes. (This is so important.)
Thin wall square tube techniques for All positions 
Sparring with Gravity on uphill fillets
Keys to MIG welding Overhead