Pipe Clamps and an Innovative Tripod Vise for Stainless Steel Pipe and almost Anything else too.
What do Pipe Clamps, pipe vises, stainless steel pipe and tungsten grinders have in common?
A company called TechSouth Inc. offers some of the most innovative pipe fitting tools I have seen in a long time.
I have been lucky enough to attend about 15 of the last 20 AWS welding expos...I eat this stuff up.
The welding show is called "Fabtech" now because metalforming tools are also on display in another building but I still call it "the welding show"...or actually just "The Show" since its often the only show I attend.
Miller Welders, Lincoln Welders, Esab Welders, Thermadyne, Harris torch, are all there showing their product lines and it often looks the same from year to year....unless you are really paying attention.
This year, I tried really hard to find small businesses with really innovative products. You know, simple, yet effective tools that just make the work go better.
I stumbled on this booth the last day of the show.
TechSouth Inc. was displaying pipe clamps and a tripod vise that is nothing short of amazing.
Instead of a jaw teeth and a chain vise, the aluminum top of this tool has a T slot. A standard T slot that works with standard 1/2" T nuts.
All kinds of tools are available that slide right into the T slot. Its kind of like a tool changer on a CNC mill or lathe.
Instead of being stuck with pipe jaws and a chain, an actual Pipe fitting line up tool slides in the T slot. A sliding V block supports the straight stick of pipe. Spring loaded wing nuts get the high low out of the fit and there is room designed to allow for tack welds...why am I rambling , just watch the video and you will see just how innovative this tool is.
Last week I wrote about a cool little homemade pipe clamp for small diameter stainless tubing.
The pipe clamps offered by TechSouth Inc. are similar but more rigid and come in all common pipe sizes. One of the best features is that the tooling can be operated by one person. Thats a big deal. no explanation required.
Tungsten Grinders
Its not that I have anything against tungsten grinders...I just have not jumped on board yet. Sometimes I use one and sometimes I use a 4-1/2" grinder wheel.
But I couldn't help but stop and take notice at how easy this little powerpoint tungsten grinder worked.
WeldCraft makes a tungsten grinder called the "Triad" that costs more than 700 bucks.
What?
Thats right, the CyberWeld.com price as of today for a Triad tungsten grinder is $716. The tungsten grinder in this video is around $379 from arc-zone.com...and it actually has some features the Triad is missing. exit pipe clamps page and see the longsleeve t shirts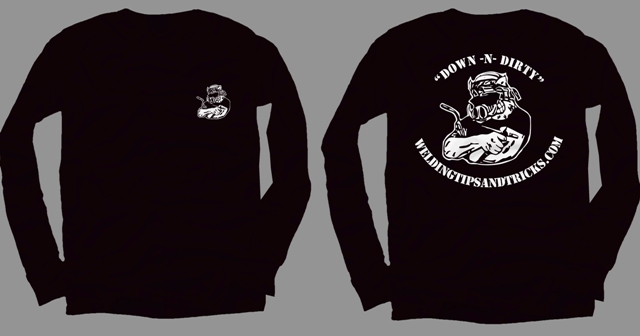 Bonus video...Miller Snagged me and asked for some Comments