Mig Welding Carbon Steel 11ga thick lap joint uphill high inductance

Mig Welding Carbon Steel 11ga

scroll down for detailed settings

If your mig welder has an inductance setting, setting it very high can help with very low wire speeds to slow things down and still maintain a smooth arc.
For 11ga steel, normally downhill would be used because uphill would tent to crown up excessively.
with a high inductance along with a very low wire speed, uphill was no problem.
19.5 volts with 190 ipm wire speed using .035" er70s6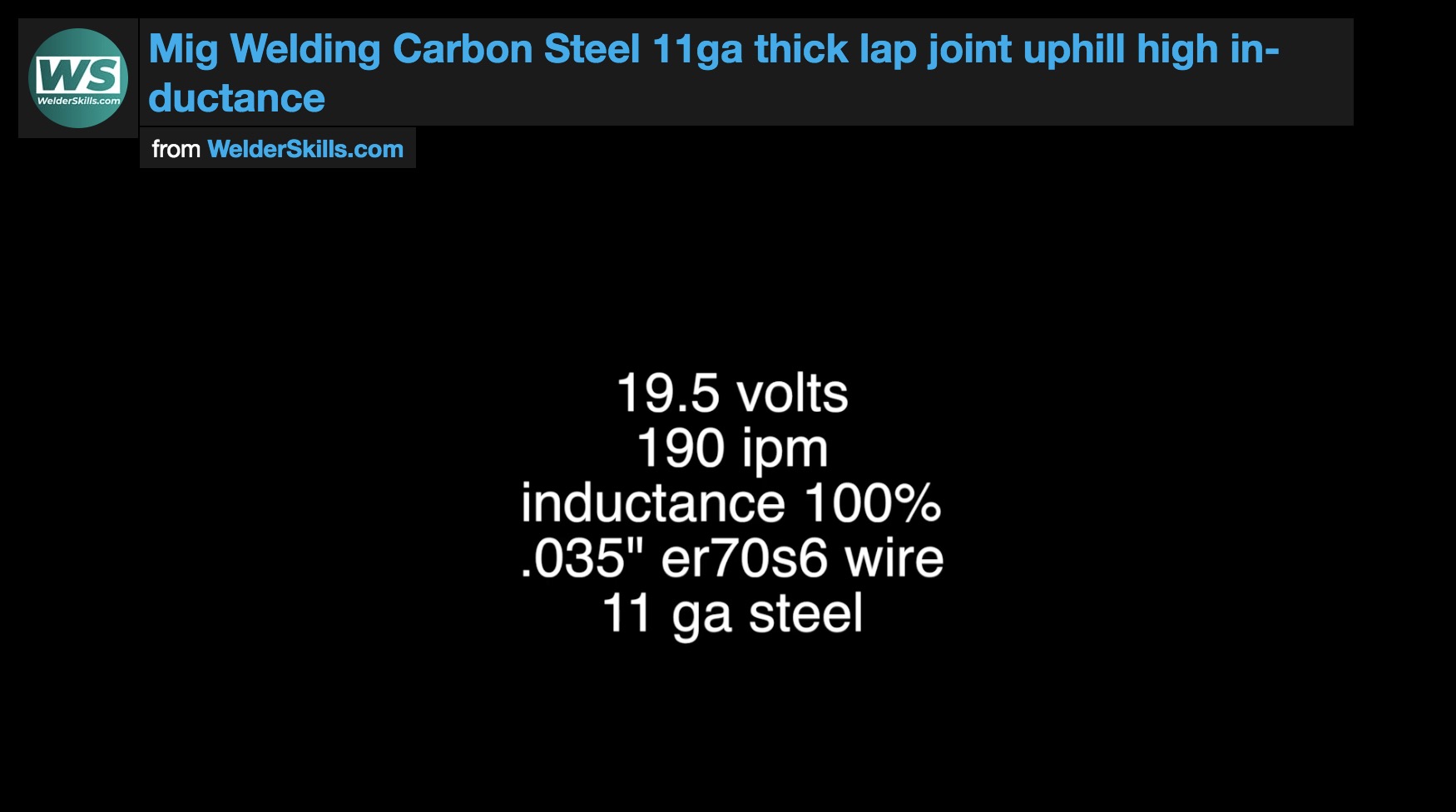 Did you know?..
There are several hundred videos over at welderskills.com from beginner to advanced... to down and dirty repair videos on farm equipment
Whether you are a student, hobbyist, or a working welder who wants to sharpen up, you can take a free trial and even get 25% off your first 3 months with promo code QS25.
Its easy to sign up…and even easier to cancel with no hoops to jump thru.
Invest in yourself,
See you in there.
Jody

WELD PROCESS = GMAW, SHORT CIRCUIT MIG, GAS METAL ARC, BARE WIRE MIG
METAL TYPE = CARBON STEEL, COLD ROLLED STEEL, AISI 1010
THICKNESS = 11ga
WELD TYPE = Fillet weld
JOINT TYPE = lap joint
POSITION = 3f vertical uphill
VOLTS = 19.5 volts
WIRE SPEED = 190 IPM
WIRE SIZE = .035"
POLARITY = DCEP
GAS FLOW = 20-25 CFH C25 GAS
CTWD  = 3/8"-1/2"
FILLER METAL = ER70S6
ADDITIONAL SETTINGS = inductance set to maximum
TIPS:A relatively short stickout aka contact to work distance CTWD of 3/8" to 1/2" makes a big difference.The technique shown is simple series of triangle shapes that traces the leading edge of the puddle