Welding Tools and Tooling by StrongHand Tools - part3
Depending on your Internet speed, You may find this Video loads quicker here at Welding-TV.com


See part 1 Welding tools, tooling, and table
See Part 2 Welding Tools, Tooling, and Table

This week I am using Stronghand welding tools, welding table, and tooling to finish up fabricating the carts.
Everything is done except for the lids which are made from 1/8" wall 1-1/2" stainless steel angle and 14 ga hot rolled steel.
The reason the tops are going on last is because the painting needed to be complete to where the very last thing was to weld the lids.
Since the final welds are up underneath the leg of the angle, about 1/2" of the tubing was left unpainted where the weld goes and that way, I could just make a few short overhead mig welds and the job would be done.
But first, I had to make all the 45 deg miter cuts with a grinder because the angle mechanism on the horizontal band saw was frozen at 90 deg.
I just set up a fan to blow the grinding dust out of my breathing zone and started cutting.
Actually, it went pretty quick using the cool welding tools and clamps to hole the angle.
**** a quick tip for 45 degree cuts on angle...
To get an accurate dimension on the inside of a frame, make the cut mark to the inside of the leg. This makes for a nice outside corner weld and an accurate inside dimension for a frame. On this job, it was important so that the lids would fit snugly but not too tight.
Framing up the lids was easy.
By this time, I am pretty good at setting up the tooling and this setup only took about 5 minutes.
In the video, you may have noticed a switch on my tig torch.
I have grown to really like it.
I dont have any amperage control when I use it, but for tack welding joints all around a table, its much better than dragging a pedal around.
I also used it for the welding and set the machine to about 70 amps and that worked out about right for the outside corner welds and even the angle joints.
Did you notice the big copper block I used for backing up the corner weld?
Using a hunk of copper to back up a stainless weld is not as good as shielding it with argon, but its a whole lot better than using nothing.
So after these welds were done, next was tacking the hot rolled sheet to the frame.
Again the Stronghand Welding Tools and clamps were a big time saver because having holes everywhere, means you can clamp anywhere.
Are Cheap Grinders OK?
A few years ago I bought a cheap Chicago Electric 4 1/2" angle grinder from Harbor Freight for about 20 bucks. It was supposed to be a spare grinder to get me by while someone else had my Dewalt.
The trouble with this cheap grinder is that it has a slide switch with no spring to keep it off or to turn it off if it slips out of your hand....so I knew to be careful.
Didnt matter. got me anyway.
I was changing the wheel, so I unplugged it to be safe. so far , so good.
I put a brand new cutting disc on (by the way the Chicago Electric 1/16" thick cutting discs held up really well for about 20 cuts each on the stainless steel angle cuts)
I laid the grinder down on the welding table with the new cutting wheel in place and plugged it back in.
Like a top fuel dragster, the grinder took off the end of the table toward me, hit the floor, and exploded.
Thankfully, I was wearing a face shield.
But that didnt stop a piece of cutting wheel shrapnel from nailing me on the neck.
Thats when I realized the switch somehow got turned on while I was wrestling the old wheel off.
You dont expect a grinder to be on when you plug it in.
Man, that could have been a lot worse.
Lesson learned.
All my future grinders will have a paddle switch.
See Welding tools and tables part 1
See Welding Tools and Tables part 2
"Hey jody just wanted to make a comment on the tig finger. It is by far money well spent I weld mostly thin gauge stainless and like to rest my hand right on the metal when im welding. Even when I repair aluminum diesel tanks for semi trucks I can run 220 amps while resting the ting finger close to the weld with it only gettting warm. Well done. Thanks for the great product" ....Lawrence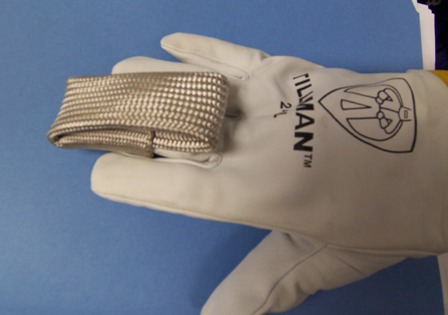 "Jody, I ordered the TIG Fingers from the site.


I gotta tell 'ya, thay are one of the best welding gizzies EVER! I build steel lamps, furniture, and am getting back into the car building business. I'm always doing welds that are in awkward positions, and guess what, no more burned pinkies. Even more important, fewer shaky beads, and fewer contaminated tungstens! Awesome product, and an even more awesome site. Keep up the great work. "

~Jeff ... Colorado
"First I would like to say that I ordered your Tig finger 3 pack for myself and a couple of friends.


We all LOVE it. We're seeing more and more Tig pipe jobs coming up and this has helped a LOT when it comes to being able to keep one finger on the piece of pipe for stability. Now just to get a water cooled Tig torch "

~Thanks
Bundle and Save Money

Single Tig Finger: $ 11.99


Pack of 2: $ 21.99
SAVE $ 2 !

Pack of 3: $ 31.99
SAVE $ 4 !
But, of course... The BEST things come in 6-Packs and 12-Packs!

6-Pack: $ 59.99
SAVE $ 12 !

12-Pack: $ 109.99
SAVE $ 34 ! And... FREE SHIPPING!