Get yourself some 2% lanthanated Tungsten Electrodes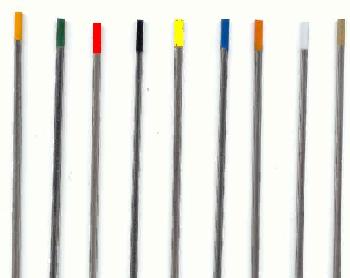 Tungsten Electrodes...So you just bought a Tig welding machine and you followed my advice on selecting a tig torch...
Now you are going to need an assortment of 1/16, 3/32, and 1/8 tungsten. But before you waste your money on a bunch of different of electrodes like pure, ceriated, thoriated, lanthanated, zirconiated....to try out, listen up....
You only need one kind!!
Unless you want to complicate your life, make up your mind to use only one type of tungsten electrode. When you have 2 or 3 different kinds of tungsten in your box and you accidentally grind the color code off, how are you going to know what you have?
Back in the day welders would mainly use either pure tungsten for welding aluminum or 2% thoriated for welding steels.
Even with only 2 different kinds of tungsten, they still got mixed up when the color got ground off.
Even though there has been a lot of talk over the last 10 years or so about thoriated electrodes being hazardous because thorium is slightly radioactive, welders still use them a lot.
Why? because they work.
2% thoriated electrodes have been used more than all the rest...probably because They carry a lot of current, they break easily (something that comes in handy when you get a big blob of metal stuck on the tip) and they can be used on all polarities. (they dont ball good on A/C unless you do it on dcep first).
Before it sounds like I am trying to sell the idea of using 2% thoriated...There is another really good choice now ...Its 2% lanthanated.
I have been using this stuff for about a year now and I am starting to like it. It seems to carry about the same amperage as thoriated and it rounds off better on A/C. If works especially well on inverters like the Miller dynasty 200dx and dynasty 350 where A/C frequencies are typically set to 120 or higher.
It is a great choice to simplify your toolbox and your life.
The only problem with 2% lanthanated is that it does not break cleanly. You cant just snap it with your fingers or 2 pairs of pliers. It bends and splits. You pretty much have to cut it with a grinder or at least score it with a grinder before you break it.
This is a pretty small price to pay for an all purpose tungsten electrode that works on carbon steels, stainless steel, nickel alloys, aluminum, magnesium, titanium, cobalt, copper alloys, pot metal, and everything else.
And while we are on the subject of cutting and sharpening tungsten electrodes, I posted a page recently with several different methods for sharpening electrodes and got some interesting feedback....see the page here... Tungsten Sharpeners
exit tungsten electrodes and read more tig welding articles