Tungsten Sharpeners

Tungsten Sharpeners have made a splash in the tig welding industry. But do you really need one?
Lets look at some of them

ck worldwide turbo sharp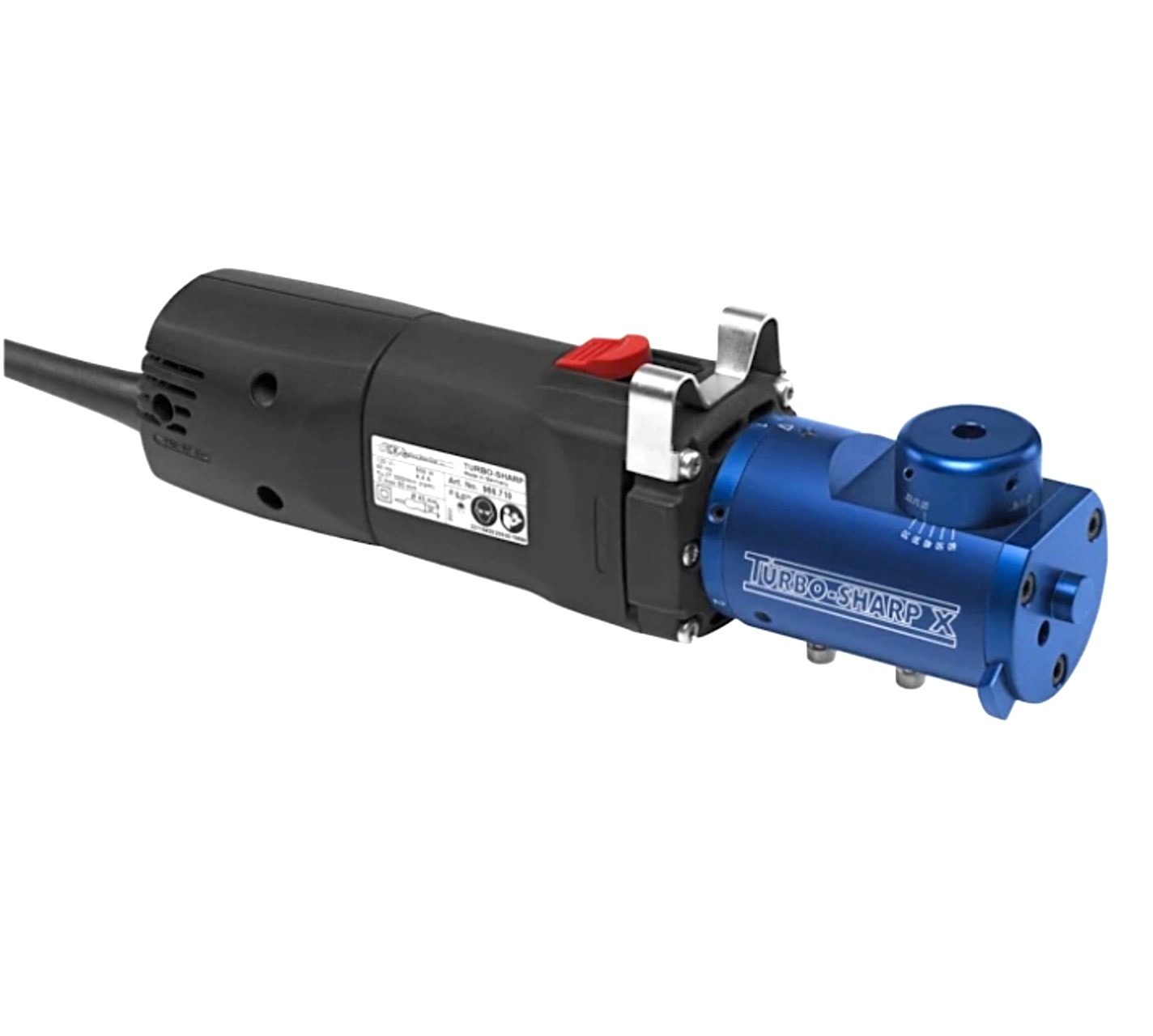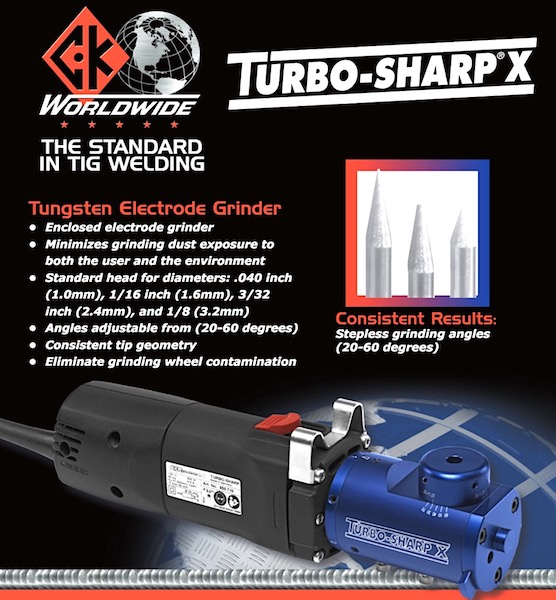 Handheld Tungsten sharpeners like this HTP model have become really popular. Other popular brands are... weldcraft, ck, and arc zone.
some even come with a vacuum bag to keep the dust filtered and contained. With all the talk about radioactive thorium dust, the vacuum bags have been pushed hard.
The pros of a hand held unit like this are:
* some of them are pretty affordable..starting at around $200
* the consistency is pretty good
* there is no coolant to change
* compact and fits in tool bag
The cons are :
* the diamond replacement wheels can be expensive...something not advertised when you buy..the ones I have used cost around 40-60 bucks...ouch!
* Some the the hand held tungsten sharpeners are not cheap, some of them are around 800-900 dollars 

* They get full of dust and have to be cleaned.
Benchtop Tungsten Sharpener
Benchtop units like this one belong in high tech shops where clean room sanitary welds are performed and dust is not allowed.
Personally, the ones I have seen get clogged with sludge and never get used after that.
The nice clean viewing window lasts about a week and then you might as well paint it black.
For most applications , I dont like it...too much trouble. When it becomes this time consuming to sharpen electrodes, it discourages use of the equipment.
Pros:
* no dust
* more precise than most
* wheels last longer than small units
cons:
* messy
* slow and cumbersome
* not portable
* very expensive...at least $1600
* learning curve to get over before you can use it.
The Stilo Tig hand held tungsten sharpener
This little thing kind of interests me.
The reason is I used to use a little aircraft turnbuckle cable fitting to sharpen tungsten. It only worked once you cut them in half and I really did not like that part but all I had to do was slip the electrode in the hole and let is spin freely on an 80 grit sanding disc or belt.
And the best part ...It worked.
So here is my take on tungsten sharpeners...
Do they make a difference? yes.
Do they make a lot of difference? For some welders, they definitely make a lot of difference. 
if you strictly do home projects welding carbon steel square tubing, then I dont think need one.

If you are using an automated process like orbital tig welding, you need one.
But for manual tig welding with a foot pedal or lift arc...You know what I am talking about.If you are the kind of welder who has already optimized your other equipment and invested in training and you are looking for that extra edge...by all means get one. If you are that guy , go ahead and get the CK worldwide Turbo sharp.
But for the rest of us...(I include myself because even though I use a CK sharpener quite a bit, I sometimes just sharpen on a sanding disc.)
Just make sure to use a sanding disc no rougher than about 80 grit...and once you have your taper, turn the tungsten lengthwise to get the grinding marks going lengthwise. And BTW , sharpen a bunch of them so you will always have a sharp tungsten ready.
An 80 to 120 grit sanding disc on a 4 1/2" electric grinder is a pretty cheap tungsten sharpener and you can use it for other stuff too.
One more thing...if you are concerned about contaminating your welds with stuff that might be on the sanding disc, just light up on a piece of copper first before welding on anything. The contaminants will smoke away when the electrode gets cherry hot.
What do you Think about Tungsten Sharpeners?
What do YOU think?
What Other Welders Have Said

What i think of Tungsten Sharpeners? 
I'd love to have one, but my company wouldn't spend the money. So, i carry on using my £2.50 pin drill holder on the belt sander instead. I initially …Angle grinder guard tungsten sharpener 
Here's a good tip. Take your angle grinder guard off and drill a hole in it just barely bigger than the biggest tungsten you will sharpen. Put it on the …Sharpening Tungsten Electrodes: A Personal Opinion 
I have been a machinery fabricator and welder (TIG, Stick, MIG) for 45 years, after spending the first four years of my life as my father's apprentice. …Buy an expensive sharpener if you want, but ... 
I've always wondered what all the fuss was about to be perfectly honest. I chuck my tungsten in a keyless chuck electric drill and simply hold it up to …From a safety point of view 
First off, I'm not a welder. I'm the EH&S manager for an industrial service company. We have tig operations in 2 fixed facilities as well as multiple …Uhh... 
I clamped a spare Dremel, with a 15 dollar diamond wheel, in a vise at about the height of my chin on my storage bench. I spin the electrode in my bare …Country Boy Welder 
Like many of you I have been welding for 35+ years but have only recently started tig welding. While surf the web (eeeehaaaa) I saw this stilo tig pen …stilo tig 
Hi my name is Grant Otto and have bought the STILO TIG and i am very impressed ........... ---------------------------------------------------- Hi …Overcomplicating Things - tungsten sharpeners 
I'm just a hobby welder with a Lincoln Invertec 205-T. I rarely have to sharpen my Tungsten, perhaps because the 205-T starts so easy. Or perhaps the …Chem-Sharp 
Hey guys! I did a search and found very little regarding the product Chem-Sharp, so I thought I would chime in. The one quote I found regarding this …Dump the overthink in the overthink can.. This works GREAT. 
After hours of overthinking I stumbled on something so simple it made me happy and mad at the same time. I made a guide block for a jig I was creating …OrbitalX 
I agree with your opinion on tungsten sharpening 100%. I have had the honor to witness an "old school" welder sharpen a piece of tungsten with an oxygen-acetylene …Not really about the tungsten sharpener 
I am just learning TIG and other welding.I was wondering more about the angle or taper of the electrode.The more experienced welders at work use a small …Body repair man, fabricator 
My uncle used to have a race car fabrication shop and when I was a little boy he would give me all of his tungstens to sharpen i would then take them over …Metal Fabrication Shop Owner 
We do all sorts of welding, mostly stainless and aluminum from 1/2" down to 20 gauge sheet metal. I am the primary welder at my shop as we are a small, …boilermaker from local 169 Not rated yet
years ago when I started we used a torch with the tungsten held at and angle to the flame. then slowly rotate the tungsten and you will get a perfect tip …sanding vs diamond sharpener Not rated yet
Ive been TIG welding for about 18 years from home shops to BF Goodrich Aerospace on plane parts. Most shops dont have a diamond wheel, too spendy and …I bought the stilo tig and it works good Not rated yet
I can even sharpen the tungsten with my gloves on!! Its small enough that I take it everywhere my tungsten goes. fits right in my pocket with the …tungsten sharpeners Not rated yet
I saw a tig torch for the first time at a sheet metal shop where I was hired as a peon. I didnt get any qualified instruction in the welding department …Hand Drill Not rated yet
Love the site! Great tips! I use a hand drill, chuck up the tungsten like a drill bit, give it a whirl, and then pat myself on the back for not burning …GO 2 BUILDING & REPAIRS OWNER Not rated yet
Tig finger, best tool for tig welding aluminum. Past my cert. test for 3/8 aluminum using the tig finger. Thank you, Kevin. ------------------------------------------- …Paul Not rated yet
I prefer a small bench grinder (6 or 8 inch) that is dedicated for tungsten. The tungsten is chucked in a cheap electric drill. Position the tungsten against …yellowlight Not rated yet
I always had wandering arc with my bench grinder sharpened tungsten's. So a number of years ago I got one of these little orange HTC baby's and first one …Grind underwater Not rated yet
I find that the arbor mounted diamond wheels that fit into a drill or a rotary tool (http://www.harborfreight.com/4-piece-large-diamond-grinding-wheel-set-32397.html) …Click here to write your own.$9 Skil 4" Continuous Diamond Rim Blade on Angle Grinder Not rated yet
I use a Skil 4" Continuous Diamond Rim Blade on my 4.5" Angle Grinder. Works great and can be picked up at Lowes for only $9. Not the smoothest grind but …Eric Ballard Tig welder pipe Not rated yet
yes I think the only way to sharpen tungsten is with tungsten sharpener almost impossible by hand I created my own sharpener with a keyless chuck drill …Chemical sharpeners? Not rated yet
What is your take on chemical sharpeners? ---------------------------------------------------- They work. no grinding scratches but they typically …Retired Journeyman Welder Not rated yet
I have always used offhand grinding for my tungsten sharpening. The only time I didn't was when I got curious about a chemical system for sharpening tungstens …X welder & instructor Not rated yet
To sharpen tungsten electrodes, I purchased an inexpensive bench grinder and a 1/4" reversible electric drill with a keyless chuck. Turn grinder on, …Michael Paiano- United Railing and Iron Works Limited Not rated yet
The thing I hate about these tungsten grinders is that at some time they require maintenance that can be expensive. I would rather invest that money …Just another Welder Not rated yet
Wow. I have been welding for 15 yrs. Mig, tig, stick, oxy acetylene. Yep i've done it all. I have used the Arc Zone Sharpeners at a few jobs. I. Truly …pipe welder Not rated yet
I have been welding pipe for several year now. The best thing I have found is a $20 cordless dremel tool from wal-mart and a 4" grinder. This setup has …cheapest sharpener Not rated yet
I use a lousy (read - speed control rarely works) Craftsman multi-speed rotary tool (cheapo Dremel) with nothing more than a simple Forney diamond 1/8" …Tonnie Borgelink ( TB Techniek Netherlands ) Not rated yet
Compliments to your website,i think it`s good to share experience with other welders,i am specialized in making motorcycle frames for racing use from chrome/moly …Cutting Torch Not rated yet
In a pinch you can get a rough tungsten sharpening done with a cutting torch. --------------------------------------------------- I have done it. …Tig Toddler Not rated yet
I am brand spanking new to welding. I am currently enrolled in a welding class at the local community college. When the class was divided I was thrown …solution i use Not rated yet
cheap fine grit grinding wheel, the tungsten actually wears major grooves in it. just chuck it in a cordless drill, fire up the bench grinder, and hold …levermasher Not rated yet
Thanks for the input and articles. I'm sort of self-directed on tig training (meaning I have a machine and am teaching myself with input wherever I can …Tool Maker/Fabricator Not rated yet
What is really important about what sharpens your tungsten tig electrodes really depends on what you are welding. The sharpening angle of the tungsten …First Aluminum Project - Installed Not rated yet
Jody, Here are pictures of the aluminum steps for low water access, Norris Lake, TN. I wrote about them last year. They were installed in December. …buggetino Not rated yet
im not a professional welder but i think they are a luxury you don't need... what i do is use a bench grinder... i chuck the tungsten into a cheap slow …wm gallagher Not rated yet
Well it goes like this, I have not seen any difference in sharpening tungsten , as for sharpeners if u want to throw money away go for it I do very …Cheap and easy, better than a pin vise. Not rated yet
I picked this one up on a chat forum, and I love it. Take a broken flex-head torch, cut the barrel and neck off, leaving the head (no cup). Use a rooster-tail, …Mike/Certified nuclear welder Not rated yet
You hit it on the head bro. The sharpeners can make a difference but lets be honest we have all seen some pretty amazing welds made by old school guys …sharpening tungsten Not rated yet
I believe in todays world and the emphasis on safety and liability, it is probably best, for the owners sake or contractor for that matter to get a sharpener. …pres.ident and head janitor, welder Not rated yet
I have found that if I put the tungsten in my cordless drill and use a right angle air grinder with a new 80 or 120 grit 2" roll lock and get the right …Radiation Protection Specialist Not rated yet
We use the sharpeners at our nuclear plant due to the fact that the thorium added to tungsten is radioactive. If you throw it all over the place with a …What about Chem Sharp? Not rated yet
Does this stuff work? It's called Chem Sharp. https://weldingsupply.securesites.com/cgi-bin/einstein.pl?Next::1:UNDEF:OR:terms::PN#N1 -------------------------- …Pin Vise Not rated yet
I liked the idea of a using the turnbuckle. I didn't have one but I had a pin vise. It's easier to control than the drill motor method.Click here to write your own.I'd use one if you bought it for me. Not rated yet
I'd use one if you bought me one. It would probably give me back a little of my evening TV/Veg time. I use a little 3" grinder and a 6" cutoff saw I …Drill + Bench Grider = Pointed tungsten Not rated yet
At my community college, which may be the best for welding in the country, we use a drill and a "for tungsten only" bench grinder to bring our tungsten …Bench Grinder Tungsten Sharpener Not rated yet
I work for a NASCAR cup team as a chassis builder. In cup shops, they are all about being clean and organized due to that fact of sponsorship appeal. We …Mike Not rated yet
I still use a silcon carbide wheel on a bench grinder (a cheap one, dedicated for tungstens only), but I chuck the tungsten into a battery drill and with …whats the point Not rated yet
why would i spend money on a tungsten sharpener when it takes no time to do it by hand on my bench grinderTungsten Sharpeners Not rated yet
I just chuck the tungsten up in a drill and stick (screw a bolt in the grinder where the handle goes) my 4" angle grinder in the vice (with a new sanding …tungsten sharpener for field work Not rated yet
For sharpening tungsten on the job, there is nothing like a 9 volt cordless drill and a 4 1/2 inch grinder with a 60 grit tiger paw/flapper disc you …Carmen Electrode says.... Not rated yet
You're right, tungsten electrode sharpeners aren't for everyone. Some folks like 'em because they want all the best tools in their shop. Others, like those …thanks for tig videos  Not rated yet
i use cordless drill over fine grid stone grinder i like it cause its fast i trim 2 ends so with two tungstens i have 4Jeremy Warren Not rated yet
Hey Jody. Good stuff. Thank you for sharing your experience and knowledge, it makes me want to do the same. I'm British and a toolmaker by trade. I …Welding Engineer and Consultant Not rated yet
Like your site alot. Just found it today. As far as Tunsten Sharpeners go, you are right on the mark. Some will catch the dust and that's a good thing …Click here to write your own.
enough about tungsten sharpeners..read more on tungsten electrodesShare this page: 
What's This?Enjoy this page? Please pay it forward. Here's how..