Fireball Squares for Fabricating

watch more mig welding videos

Fireball Squares are some the most innovative tools for metal fabricating I have seen in a long while
Fireball Tools  is owned by Jason Marburger who is a fabricator in his day job who saw the need for better tools to make his job easier.

We spoke with the owner of Fireball Tools-Jason Marburger  on the weldingtipsandtricks podcast back in 2018 and also visited his booth at Fabtech 2018 in Atlanta.
My good friend JD Brewer has a whole bunch of Fireball Squares and uses them all the time.
Jason put a lot of thought into making fireball squares but it takes someone like JD to get the most out of them.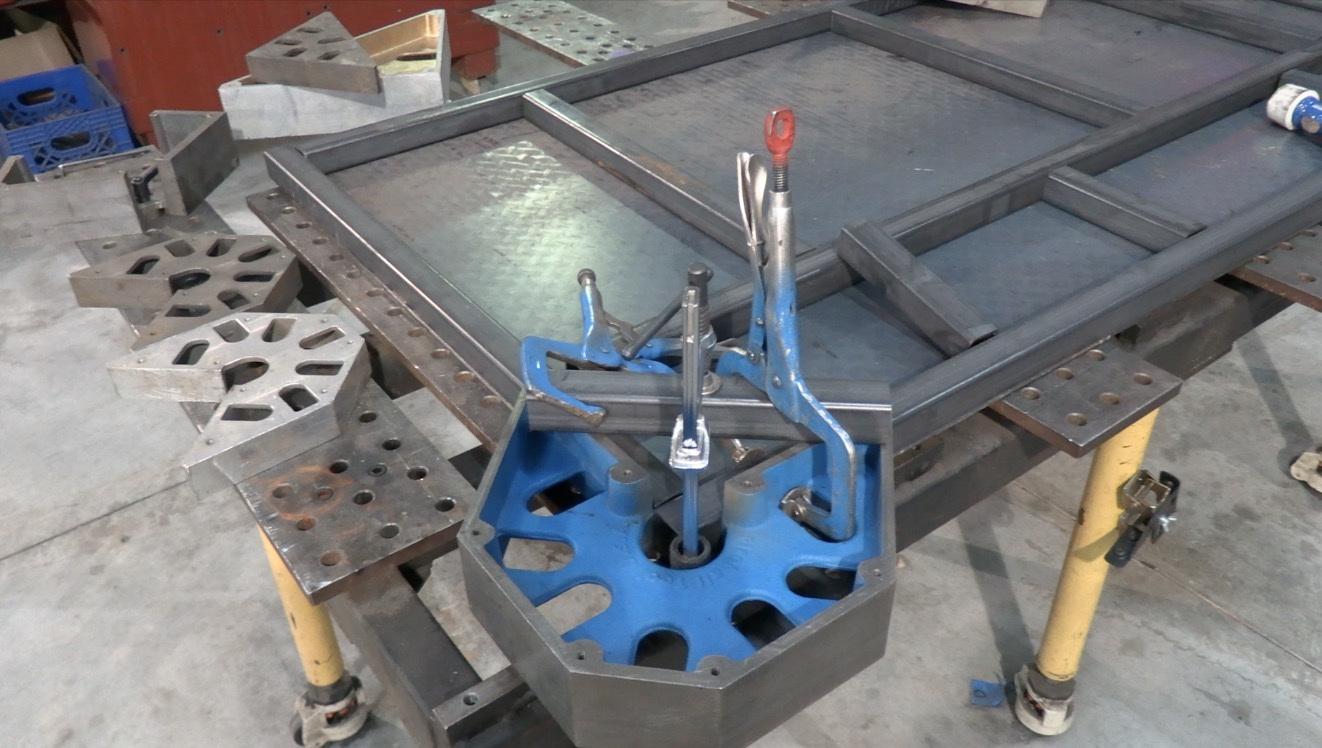 Platform Build made easy

The project for this video is a platform for a local factory that makes plastic bottles.
A fairly simple project that was basically bulit from a napkin sketch but any project needs to be plumb and square.
The bones are made from 1-1/2" square tubing with 1/8" wall thickness.
The tread plate is 3/16" thick.
Welder settings with .030" ER70s-6 wer 18.5 volts and 330 ipm
Clamping the platform upside down to the Stronghand Table kept it flat while usine Fireball Squares along with a whole bunch of claps kept all the 90 degree angles straight without using a lot of tack welds.
Once everything was clamped, JD could pretty much just start welding.
Distortion was minimal....and once the welds were ground smooth the platform will rest on the steel runners just fine.

Fireball Squares for handrails

The handrails definitely could have been fabricated in sections but since every welding table in the shop had metal on it, JD decided to fabricate the handrails in position.
The tabs on the cast iron Fireball Squares held the uprights plumb while he got 3 to 4 tack welds on each one.
Then for the horizontal rails, he used smaller aluminum squares with tabs to position the horizontal pieces.
Kick plates made from 11ga x 4" 1010-1020 steel were welded on as well and we were reminded why a big fan blowing on your mig welds is not a great idea.

Once everything was welded out, a paint job along with some plastic end caps will finish the job and the platform will be delivered to the job site and installed.

note:  as I write this, Fabtech 2019 is only 2 weeks and I will get to see Jason demonstrate all the new products at his booth so I should have some additional photos to post here