Getting started
by Bill
(Joshua Tree, CA)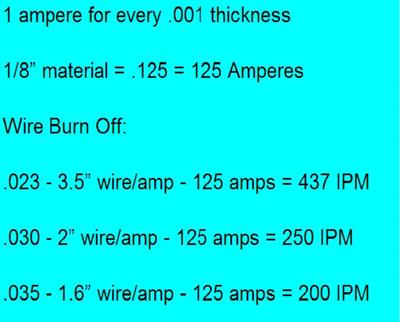 rule of thumb wire feed settings
I just bought a Hobart Mig welder. I know how to arc weld and use a gas torch, but I have never Mig welded. Which do I adjust first, wire feed, amperage, or tip? Any advice to get me started so I can practice would be helpful.

---------------------------------------------------

Most hobart mig welders have a pretty decent chart on the inside of the wire feeder panel.

but if it does not have that, you can still set the machine just using some scrap metal.

its best to have a few different thicknesses of metal and to take notes for future jobs so you wont have to start over figuring it out for every new job.

it really depends on the welder and size of the wire but here is a formula to get you started no matter what wire diameter is on your mig welder...

take the thickness of the metal in thousandths.

for example 1/8" is .125" 125 thou.

one amp per thousands is the rule of thumb up to around .200"

for .025--.025" wire multiply 125 x 3.5 = 437 ipm

for .030" wire multiply by 2 = 250 ipm

for .035" wire multiply by 1.6 = 200 ipm

even if your mig welder does not read out in inches per minute, you can figure it quickly by pressing the gun trigger and counting to 6 seconds. and then measuring the wire that fed and round to nearest inch and add a zero.

so you would need to get 20 inches of wire to feed in 6 seconds to have 200 inches per minute.

once you have that, set the voltage high until you start to hear it rattle and almost hiss. That is too high.

now set the voltage low enough to where the wire stubs in the puddle...thats too low

dead in the middle where the bacon frying sound is there is where you want to be.

or...just experiment with different voltage and wire settings until you figure it out.