how to better understand heat distorsion when tig welding aluminum
by Chris
(so cal)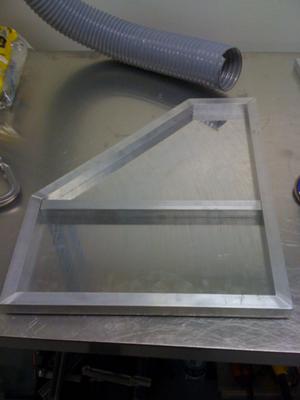 Can you explain how to better understand heat distorsion when tig welding aluminum i.e 1" square 1/8" wall thickness frame work.
I can weld aluminum ok, but when welding a square frame like a 19"w x18"L x24"H ,i'm having the hardest time keeping the corners from shrinking , precut all angles almost perfect...my job requires that my frames be with in .005 - .010 in, no matter how tight i clamp it, when i'm done welding and remove the clamps, it somehow moves. i use an aluminum 1/4" plate that we made by cnc (in photo) to bolt it to.(the tubes have rev nuts installed on other side for cnc panels to cover frame when complete) can you help?

--------------------------------------------

Chris,

Stuff like this almost always draws to the throat side....the inside of the angle.

if you change the direction of the bead, you can help a lot..

in other words start on the inside of the angles and weld outward.
I know that is awkward and sometimes swapping hands is needed., but it works.

A weld bead is continually tightening like when you lace a boot when the top is tighter than the bottom...thats why it pulls the angles in.