How to Weld like a Girl
• Pay 20 bucks to enter the AWS professional welder competition
• Put on leather jacket, helmet and gloves.
• Kick Butt and take names
Carissa Love Showed up Ready to Kick A$$ and chew gum...But she ran out of gum.
I want to learn how to weld like a girl…
Because a girl won the professional welder competition at the AWS welding expo and Fabtech show in Chicago this year (2009).
The 2009 Professional Welder Contest in Chicago was not a fake contest staged just for publicity.
Carissa Love beat out over 138 other professional welders from all over the country to win.
Carissa received $2,500 for her effort and says she is going to use the money to help pay for tuition.
What a girl!
She has got my respect because she worked hard, showed up on time, and made something happen.
Some people will see this video and not be impressed. Instead, They will look down their noses and pity this girl with blue collar aspirations. Not me. I am impressed to the bone.
Who do you think deserves more respect? Carissa Love who can weld... or Paris Hilton who is famous for being famous and has never accomplished anything?
Paris Hilton would not make a pimple on her A$$ if you ask me… which you didn't...
Getting back on task....
The 2009 professional welder test was a 6F tube to plate weld using 3 inch schedule 40 pipe welded to a piece of 6 inch square 1/4" thick plate.
A 1/8" 7018 rod was specified to make the 1/4" fillet weld.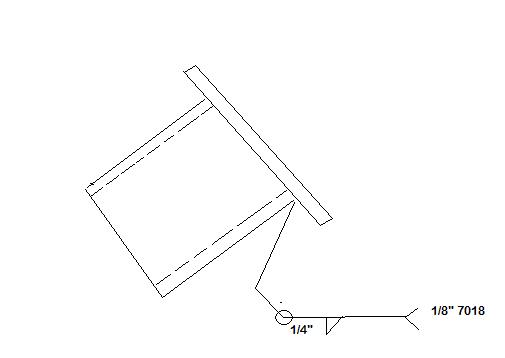 For those of you who are not familiar with a 6F test, it aint that easy.
The contestants were provided 1 pre tacked pipe that was positioned with the Pipe on a 45 degree angle with the plate on the top. That means the welder starts off overhead, and has to very quickly adjust to running vertical, and then kind of horizontal…never flat.
A supply of 1/8" 7018 welding rods was ready on each table as well as the chipping hammer and brush. Upon completion, including cleaning of specimen, the contestant alerted the judge who then stopped the clock.
I stopped by and watched the competition a few times during my walkabout of the show and what I saw was a crapload of test pieces in the scrap bin with hemorrhoids hanging off.
If you have ever welded a joint like this you know that a 1/8" 7018 is borderline too big….and a 3/32" is just a little small. It can be welded to look slick but it's no cake walk.
Oh and did I mention that there was a 5 minute time limit? Like your machine would shut off after 5 minutes no exceptions. (I have worked a few jobs where guys would take an hour to weld a joint like that.)
Welders at least 19 years old in the construction, pipeline, and manufacturing industries and practitioners of skilled trades in the construction or heavy-equipment industries – union and non-union alike – were all eligible and welcome to compete.
AWS Certified Welding Inspectors (CWI's) inspected the welds for sizing, arc strikes, uniformity etc, and credit was given if the weld was completed with time to spare.

How to Mig using Short Arc and Spray transfer

how to tig using lay wire technique
how to tig weld - advanced tig welding tps
exit how to weld like a girl and learn about welding certification