Metal Fabrication - A few quick tips for down and dirty fab on a StrongHand Table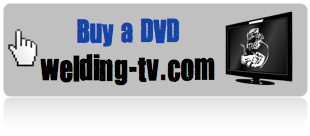 Metal Fabrication goes better and quicker on a Precision welding table with fixturing.
I have been using the StrongHand BuildPro table for over a year now.
After doing lots of jobs on it....some precision jobs... and some down and dirty jobs...
I have to say, its pretty sweet.
Today, I used it for a down and dirty metal fabrication job...a simple table top made from 1-1/2" square tubing that will be used as a stand for my portable bandsaw to get it at the same height as my Precision Table.
Since the horizontal bandsaw angle adjustment was frozen up and wont cut angles other than 90 deg, I decided to cut the 45 degree cuts using a plasma cutter.
A plasma cutter can make pretty good miter cuts if you use a straightedge.
A good thing about having a small portable welding table on wheels, is you can drag it outside for quick stick welding, grinding, and plasma cutting, where smoke and dust and be left in the parking lot. ( pretty soon, I will have a fume extractor and a DIY cutting table to use)
One of the first jobs I did on the Precision Table was an order of about 20 sewer crawlers....a motorized tractor that uses fiber optics and cameras to inspect sewers.
It saved me lots of time, and made the job much more enjoyable.
Another job I did over the summer, was an order of 15 carts designed to haul aircraft fan blades. Because it was in July, That job was a butt kicker, but went smooth and fast.
Even though the Stronghand table is pretty big,(6 1/2' x 3') Its great for small parts.
I learned that when I tig welded 4 dmall but complex parts on the StrongHand table and the modular fixturing proved extremely helpful in fitting, tacking, and welding. I banged out the parts in jig time ( no pun intended).
And the most difficult metal fabrication job I did on the Build Pro Table was an Aluminum fixture. It was a round part with a center hub and outer flange. The hole pattern, flatness of the table, and the many clamping options made the job easy.
The outer flange had to be flat enough for final machining without going below a minimum wall thickness...and clamping it down and a good preheat helped keep it flat.
So the bottom line is this...
Some people have asked me.."how much did that table set you back?"
In the words of Keith Fenner from Turn Wright Machine Works ...
"Tools like this don't set you back...They set you forward."


exit metal fabrication video and see more videos

visit home page