Mig Welder Boom Arm part2

see mig welder boom arm part 1 here

This is part 2 of building a boom arm for my Millermatic 250.
The Millermatic 250 is what is known as an "inegrated wire feed mig welder".
That's just a fancy term that means the wire feed drive motor, wheels, and spool of wire are all inside the mig welder.
Many heavy duty mig welders use external wire feeders because construction jobs, shipyards, fab shops, etc. often do welding that requires the arc to be far away from the power source.

I can reach almost any area I need to with an extension cord and a 15 foot mig gun.  But its a hassle...and the cables on the floor are a problem when the forklift is being used nearby.


So the fix for me is to hang a wire feeder on the end of a boom arm like this one.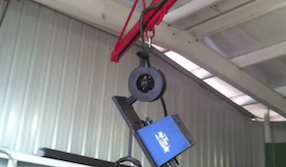 There are several  external wire feeders to chose from but they are not cheap (cheapest I found was around $1300-$1400)...and since my Millermatic 250 already has the stuff inside...Why not just install those components in a wire feeder cabinet and save a few bucks?
So what even got me thinking about a universal wire feeder unit? and about building a mig welder boom arm ?
I met the guy who designed this feeder...and he took me to several shops where he had installed the feeders.

I visited several shops where this was being done and all were happy with the units.
And one of those shops was a rough environment with welders cranking out handrails, stair rails, steps and what not for long hours and on multiple shifts.  Those feeders were up in the air and pumping out wire  without a hiccup.  It was impressive.
So at this point, I have the post and boom arm complete.
I think I will replace the hinge along the way. It seems like a weak link in the chain.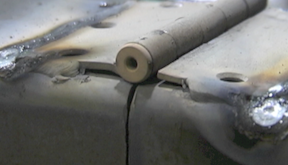 The next thing to figure out is how to make a way to lower the boom for swapping out spools of wire. I am going to try to use a trailer jack.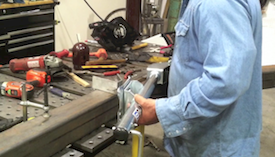 With a few attempts, I think I can figure out how to install a trailer jack near the hinge that it will raise and lower the boom quickly and with only a few cranks of the handle.
There is always a chance that it wont work, but heck...I have seen trailer jacks get abused in so many ways...I think it will work.
see more videos like this one on the mig welding boom arm