miller plasma cutter - the spectrum 625 extreme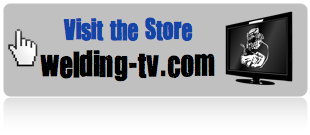 In today's Video , I am using a Miller Plasma Cutter to make a metal sign out of some leftover 16 ga hot rolled steel.
For 2012, and from now on, I am trying to step up my game....shoot better videos, take the whole thing up a notch....and see where it leads me.
So ..I am setting up a new welding area with several plugs for welding machines, lots of peg board to hang tools, a place for my precision welding table, and more.
Since, there was some scrap 16 ga hot rolled steel about 24" x 120" left over from a previous job, I thought it would be cool to make a metal sign to use a a back drop...A sign that kind of goes along with the logo on my website.
The Plasma Cutter I used is the Miller spectrum 625 extreme....an inverter plasma cutter that is rated to cut up to 5/8" steel.
The first thing you notice when you take the 625 extreme out of the box is the size.
Its Tiny
....not much bigger than a 3rd graders power ranger lunchbox.
Thats technology for you. Not that long ago, I remember using a Thermal Dynamics plasma cutter rated at only 1/2" that weighed over 200 lbs.
This little Miller plasma cutter weighs only 21 lbs.
Even though it comes with a shoulder strap, I am thinking about making a small handle because the 625 extreme is so small and lightweight, a handle would do fine for toting it around.
Is this tiny little Miller plasma cutter a toy? Is it only good for thin sheet metal?
No...and No,
Its a beast. I cut 1/2" thick steel with ease. 3/8" aluminum like butter, I cut chromoly, stainless, nickel, aluminum, magnesium, titanium, and copper.
This Miller plasma cutter is like a honey badger. It does not care what type of metal you throw at it.
Here is the biggest no brainer in the history of no brainers...
Tech Schools and welding training centers should teach students how to reuse metal by cutting welds out and re beveling test plates.
If a student can learn to use a plasma cutter, and at the same time, reuse metal and make the schools budget go further, what would be wrong with that? exit miller plasma cutter video page and see more welding videos