Miller Tig Welding Gloves - Are they Better?
Would you pay a little more for a pair of Premium tig welding gloves?

Grab a Tig Finger by clicking the TV icon below and visiting us at our new sister site. Don't forget to bundle and save money.

read more about the tigfinger heatshield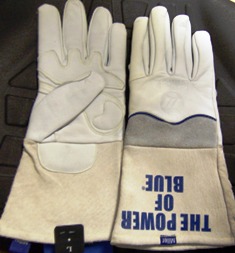 Miller TIG Welding Gloves features...
* Goatskin provides excellent dexterity and durability
* Kevlar thread, curved fingers for ergonomics
* Double seam fingers for better fit
If you were the employer of several tig welders, would you pay 21.50 a pair for miller tig welding gloves when you could get Steiner tig gloves or other brands for about half of that?
You might. If you thought they would last longer, be a good value in the long run, and keep your welders happy.
There are lots of reasons why welders select a certain glove.
* how they look
* how they feel
* How long they last
* Touch ...can you feel the rod?
* Cost
Somewhere in there is "pride of ownership."
Miller has found in marketing their new miller tig welding gloves, that if a welder is proud to have some really nice gloves, he will take better care them much better than cheap ass gloves that came from the Korean grocery store. (I used to work for a Korean guy that bought his gloves from the Korean grocery store…that's what he called them… "Korean grocery gloves)
Miller has also found that even though their tig welding gloves are priced at a premium (21.50 list price) they can show the employer a savings due to a longer lasting glove that gets taken care of and is not lost as often.
Some employers even limit the issue of tig welding gloves to a few pair a year because if they dont, the gloves get lost and mistreated and used for all sorts of things other than tig welding.
The new Miller Tig gloves are a premium quality tig glove with extra features like reinforced palm and double seam fingers for extra touch.
A pretty good test for any tig glove is to be able to easily pick up a dime. Most decent gloves will do it, but some are easier than others.
The Miller glove passed the test easily.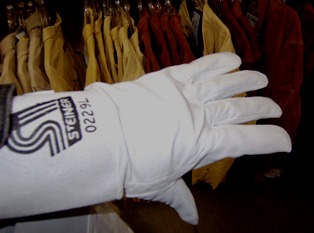 The main thing for me in a tig glove is the touch and feel. I want them to feel soft and loose so I can feel the rod. I use .030" filler wire all the time and if the glove is too stiff, or too tight, I cant feel the rod like I want to.
I ordered a pair of Steiner from Northern tool yesterday for around 11 bucks. I don't have them yet so I couldn't include them in the video as far as picking up the dime, but I was in northern tool yesterday too and so I tried on a pair. They felt good…real good. And for around 11 bucks, i think they are a good deal. (i took a picture of them in the store)
Will they last as long as the new miller tig welding gloves?
I am thinking probably not. but they do feel better to me. A lot better.
The thing with tig gloves is, you cant have your cake and eat it too. They are either durable and feel like wearing a cardboard box, or they feel soft like silk boxer shorts but get holes in them quick.
The new Miller gloves are a pretty good balance between touch and durability.
When I am in my shop tig welding, cool looking tig welding gloves are not on my list of priorities.
* I need to be able to pick up my wire when i drop it on the floor.
* I need to be able to sharpen a piece of tungsten without taking my gloves off.
* I need to be able to weld without cooking my hand, and i need to be able to feel .030" wire feed with my fingers.
* and i dont want to pay a lot for all that because I may need to mig weld occasionally when i cant find my heavy gloves.
The Miller gloves appear to be very high quality, and a long lasting glove and I am sure they will sell plenty of them.
I am probably going to stick with my Steiner or Tillman gloves for a while. Unless my wife reads this and gets me a pair of Miller gloves.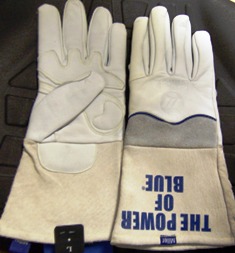 exit miller tig welding gloves page and see tig welding basics