Steal This Bike!
by Welder 4 Life
(Ottawa, Canada)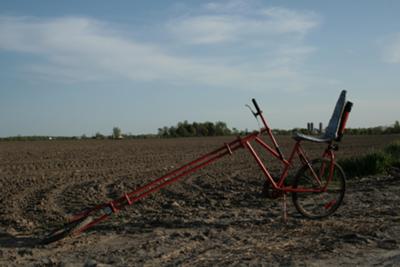 Tangerine Dream
When I was first introduced to welding it was an instant passion. I bought my Miller 175 Amp Mig to do repair jobs mainly on my mufflers as I was able to do every other mechanical repair job in the driveway.

Soon I was looking for anything to weld together. People were soon bringing me pieces of scrap, old bed frames, lawnmowers.....

On one particular day I noticed my neighbor throwing away an old bicycle frame. I walked over to ask if I could remove it from its curbside grave site and was delighted to receive not just that one but two more from inside the garage.

And so three bikes became one. I thought I was being quite original until I got on the internet and discovered the magnitude of chopper bicycles, most far superior to mine.

In the end I got what I wanted; I got to practice my welding skills, I got to build a chopper, and I got tons of laughs and smiles from friends and neighbourhood kids and parents.

In the end I really had no use for such a contraption so I decided to paint "Steal This Bike" in bold letters across a PVC canister I attaced to the banana seat. Inside the PVC canister I put a small book telling my story and requesting that the next guy brave enough to steal this bike make his own modifications, record them in the book, and then set the bike 'free' once again for the next person. I set it loose in downtown Ottawa, Canada about two years ago now and have not heard or seen anything since.

The bike is called "Tangerine Dream". If you see her let me know.


This is not the greatest welding project but I absolutely love this website and wish to help get the ball rolling with Jody's idea of homemade project ideas. Personally I want to see BAR-B-QUE'S , SMOKERS, and SLOW ROASTERS. Show me what you've got!!!