Stick Welding 5f tube to plate 7018 5/32" electrode settings

Scroll down for exact settings used
I got several requests for some 5/32" 7018 videos for structural welds so here is one for you.
Stick welding a tube to plate in the 5F position with 5/32" 7018.
5/32" 7018 are more difficult to run than 1/8" when making out of position welds like this.
Maintaining a tight arc length is key.
One thing that helps is if your welding machine has a feature called arc control or "dig" set it on a higher setting than normal while setting amperage at the lower end of the range for a 5/32" 7018.
The reason this helps is because arc control or "dig" setting is a feature that when set to a higher setting senses a drop in voltage when the arc gets tight and bumps the amperage up a bit.
This allows using a lower amperage without sticking the rod.
In this example, 145 amps was used with a 5/32" 7018 
the amperage range for a lincoln excalibur 5/32" 7018 is listed as 130-210 so 145 was at the lower end but still worked for this 5f tube to plate joint.

scroll down for settings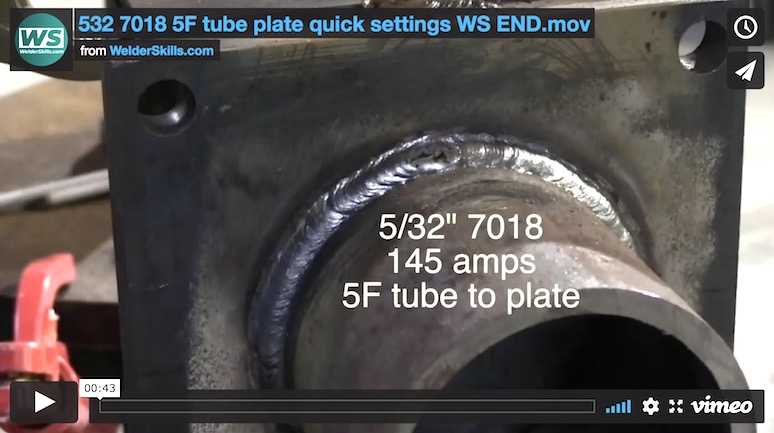 Did you know?..
There are several hundred videos over at welderskills.com from beginner to advanced... to down and dirty repair videos on farm equipment
Whether you are a student, hobbyist, or a working welder who wants to sharpen up, you can take a free trial and even get 25% off your first 3 months with promo code QS25.
Its easy to sign up…and even easier to cancel with no hoops to jump thru.
Invest in yourself,
See you in there.
Jody

WELD PROCESS = SMAW, SHIELDED METAL ARC WELDING, STICK WELDING
METAL TYPE = CARBON STEEL 
THICKNESS = 3/8" TO 5/8"
WELD TYPE = FILLET
JOINT TYPE = TUBE TO PLATE
POSITION = 5F TUBE TO PLATE
AMPS = 145 AMPS
POLARITY = DCEP
ELECTRODE = 7018 5/32"
ADDITIONAL SETTINGS = ARC FORCE SET TO 10 TO PREVENT STICKING 
TIPS:SET THE AMPERAGE HOT ENOUGH TO NOT STICK THE ROD WHEN YOU HOLD A TIGHT ARC…THEN HOLD A TIGHT ARC.
DIFFERENT MANUFACTURERS ELECTRODES REQUIRE SLIGHTLY DIFFERENT AMPERAGE SETTINGS.
TWEAK AMPS AND ADJUST ARC CONTROL TO FIT THE SITUATION