STICK CARBON STEEL 11GA 6011 1/8" ELECTRODE 2F TEE


WELD PROCESS = SMAW, SHIELDED METAL ARC WELDING, STICK WELDING
METAL TYPE = CARBON STEEL  
THICKNESS = 11GA
WELD TYPE = FILLET 
JOINT TYPE = TEE
POSITION = 2F 

AMPS = 115-120 AMPS
POLARITY = AC
ELECTRODE = 6011 1/8"
ADDITIONAL SETTINGS =  
TIPS: DIFFERENT MANUFACTURERS ELECTRODES REQUIRE SLIGHTLY DIFFERENT AMPERAGE SETTINGS. THIS  AMPERAGE SHOULD GET YOU IN THE BALL PARK.TWEAK AMPS FROM THAT POINT AND ADJUST ARC CONTROL TO FIT THE SITUATION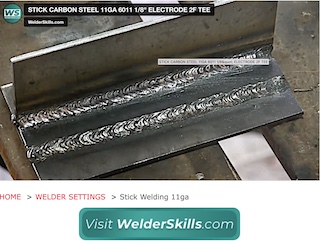 6011 stick welding rods are similar to 6010
6011 stick rods are similar to 6010 in the way they burn but 6011 rods are designed to work with AC as well as DCEN or DCEP.
A lot of small inexpensive inverter welders dont have the right open circuit voltage to keep a 6010 running smooth but because 6011 rods have a stabilizer in the flux, they tend to run better on small inverter welders.
Thats a good reason to keep some 6011 rods around.
They work great on quick portable jobs in the field where its much easier and faster to carry in a small inverter and run of a Drop cord