Stick Welding 1 inch thick Carbon Steel 175 amps with 7014 5/32" using AC buzz box - Fillet weld


Stick Welding Carbon Steel
I was doing this job using a Lincoln 350 mp and pulse spray mig and when I got to these heavy counter weight plates, I thought to myself..." what if I ran out of gas or my 350mp stopped working or was down to my last contact tip" ???
So just to show what can be done with very simple equipment, I switched over to a Lincoln buzz box tombstone style AC welder and welded the plates using AC and 175 amps.
7014 rods burn similar to 6013 but lay down a heavier bead due to lots of iron powder in the flux.
7014 are an all position electrode but I could position the piece to a 2f fillet so that is what I did.
There was no requirement on the drawing for a certain process and since the plates were strictly for a balancing counter weight, I thought "why not"?
Having options can get you out of a jam.

scroll down for settings
7014 5/32" using AC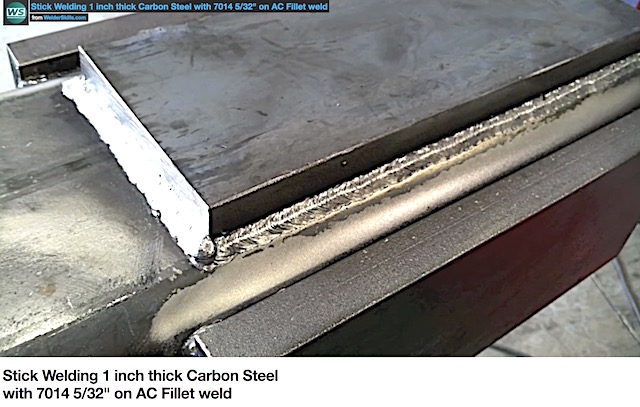 Did you know?..
There are several hundred videos over at welderskills.com from beginner to advanced... to down and dirty repair videos on farm equipment
Whether you are a student, hobbyist, or a working welder who wants to sharpen up, you can take a free trial and even get 25% off your first 3 months with promo code QS25.
Its easy to sign up…and even easier to cancel with no hoops to jump thru.
Invest in yourself,
See you in there.
Jody

WELD PROCESS = SMAW, SHIELDED METAL ARC WELDING, STICK WELDING
METAL TYPE = CARBON STEEL  
THICKNESS = 1" A36 PLATE TO 1/2" WALL TUBE
WELD TYPE = FILLET 
JOINT TYPE = LAP TEE
POSITION = 2F  
AMPS = 175 AMPS
POLARITY = AC
ELECTRODE = 7014 5/32"
ADDITIONAL SETTINGS =  
TIPS: DIFFERENT MANUFACTURERS ELECTRODES REQUIRE SLIGHTLY DIFFERENT AMPERAGE SETTINGS.

WHEN AND WHY TO USE 7014 RODS

When low hydrogen electrodes like 7018 are not specified by a procedure, specification, or code, 7014 rods are sometimes  a good option.
In the short video on this page, I was fabricating a fixture and the 1 inch plates being welded with 7014 5/32" were counterbalance weights.
Since the drawing did not specify the electrode, I decide to weld them with 5/32" 7014.
Some benefits to using 7014:

Slag peels off easy (usually)
dont require a rod oven in order to run well
easy to get at a big box store like tractor supply, home depot, etc.