TIG Torch Accessories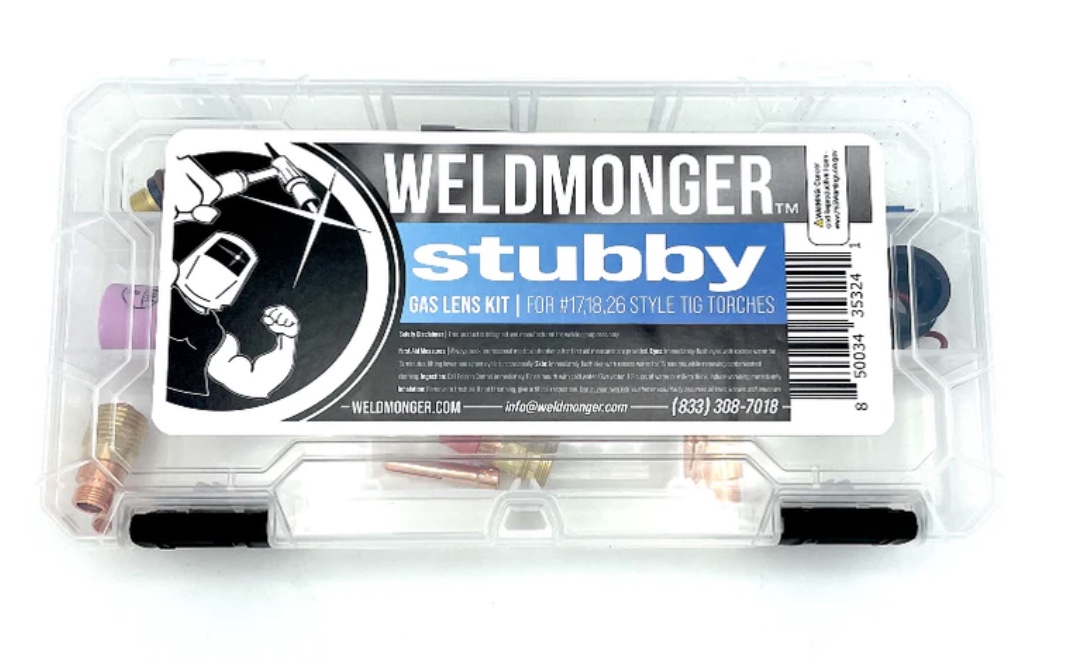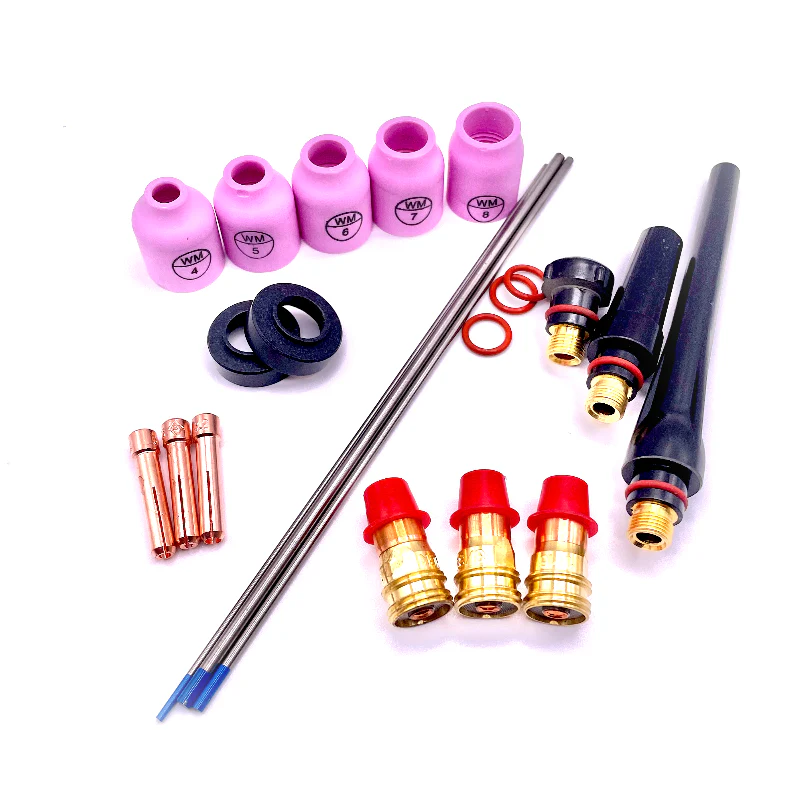 If you just bought a TIG welder, odds are pretty good that the TIG torch accessories that came with it are not going to let you get the best results possible.
And if you are getting gray stainless welds, well...

We have the TIG Torch Accessories you need to improve your TIG welds.

Most TIG welding machines that come with a TIG torch come with an air cooled 17 style torch and Basic cups and hardware.
Nothing wrong with it...But we can do better than basic.

A Weldmonger stubby gas lens kit is the first step to better TIG welds.
or should I say...a Quantum Leap.

We  improved our Stubby Gas lens kit by swapping out the CK gas lenses with Furick Gas lenses that have built in o ring grooves.

This one small change to our stubby kit lets you use any of the clear or ceramic Furick gas lens style cups without needing to additional Furick adapter kits.
We also added more different size cups so now our stubby gas lens kit includes 4,5,6,7,and 8 ceramic cups.
If your specialty is 4130 chromoly, stainless, Nickel, or Titanium, then our Weldmonger/Furick TIG Arsenal Kit is designed just for you.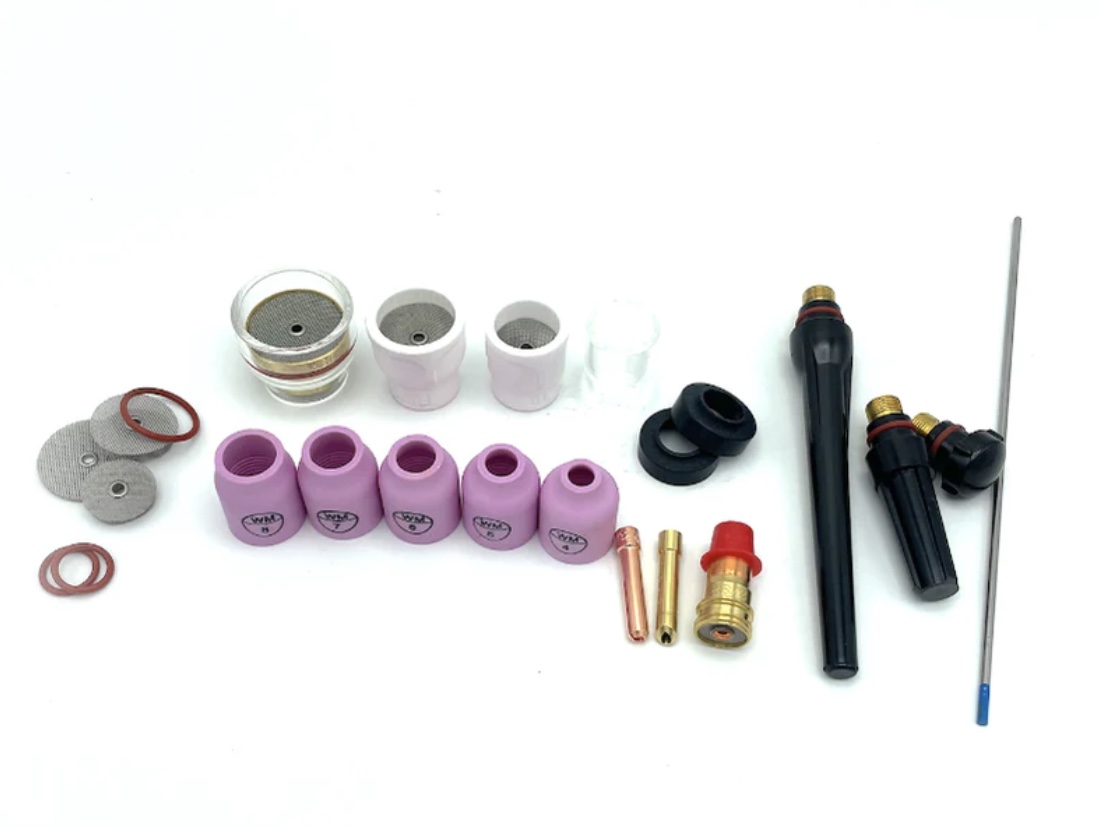 We took one of our best TIG torch accessories and made it even better
What would make our already great TIG Arsenal kit even better?
And how can we do that without increasing the price?
We asked ourselves these questions and came up with a great solution.
We added #4 thru #8 ceramic cups that work perfectly with the 3/32" Furick gas lens included in the kit.
Because there are times when are low on Argon but you still need to get a job out the door on a Sunday afternoon when the welding supply is closed.
This has happened to me more than a few times.
I have spare argon tanks but sometimes I get too busy and let myself get low.
So on a Sunday, If I am welding plain carbon steel parts that will be plated or painted anyway, I will put a #5 cup on and set my argon flow to 10 cfh to get the job done.
There is a time and a place for every cup size…and sometimes the reason to use a smaller cup is simply to save argon.
Normally I like to use bigger cups to get the best looking weld possible on carbon, stainless, and 4130 chromoly.
But on some jobs, a smaller cup is good enough and gets the job done.
So now our Weldmonger/ Furick Arsenal kit is even more versatile with more options.
While other stores are raising prices, we added value and kept the price the same.
More TIG Torch Accessories
Furick Adapter kit 3/32" for 17, 18, and 26 style tig torches
This Made in USA adapter kit lets you use any of the furick cups both clear and ceramic #7 and larger.  This is what you need if you have a 17 style torch.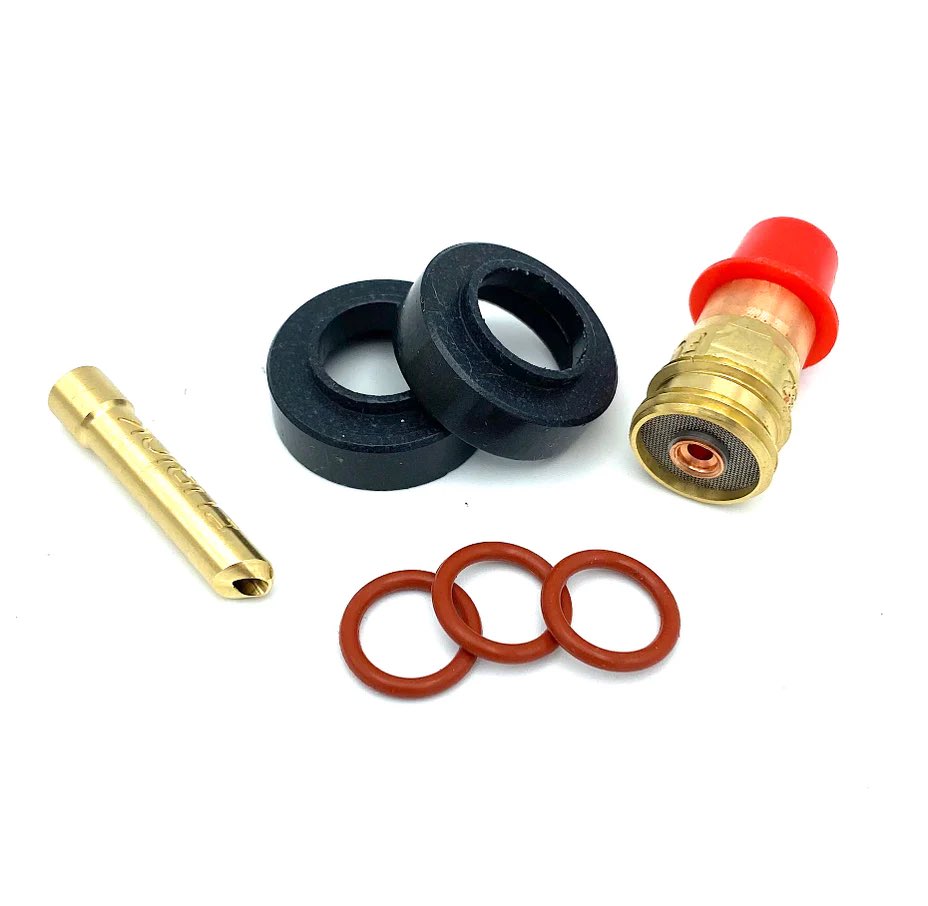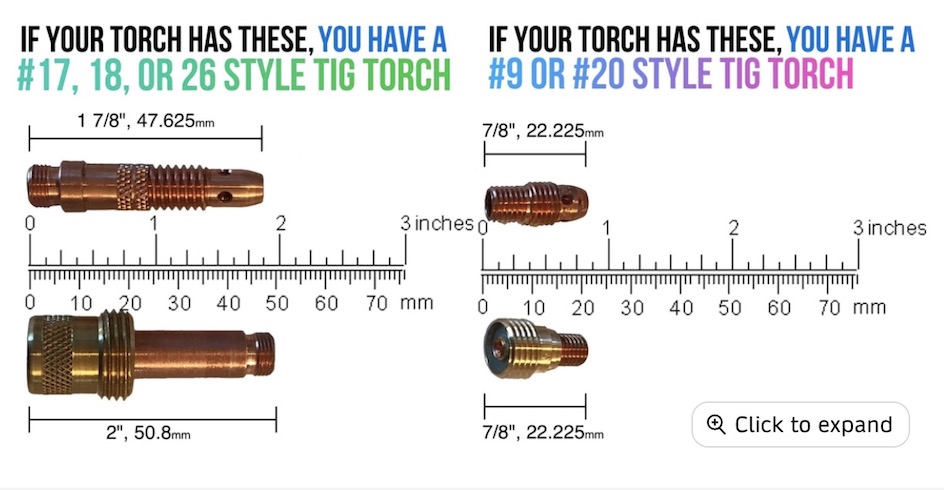 Furick #8 pro 4 pack with adapter kit for 17/18/26 torches
The clear #8 pro really helps light things up and helps you see the puddle better.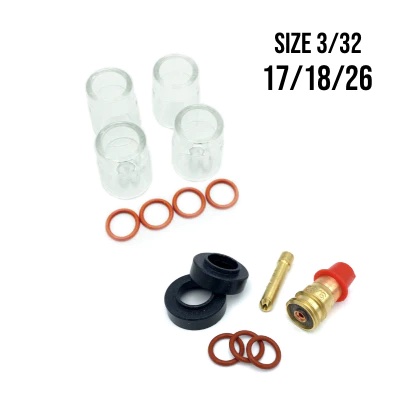 Jazzy 10 Ceramic is a huge improvement over standard cups and works great on carbon, stainless, and chromoly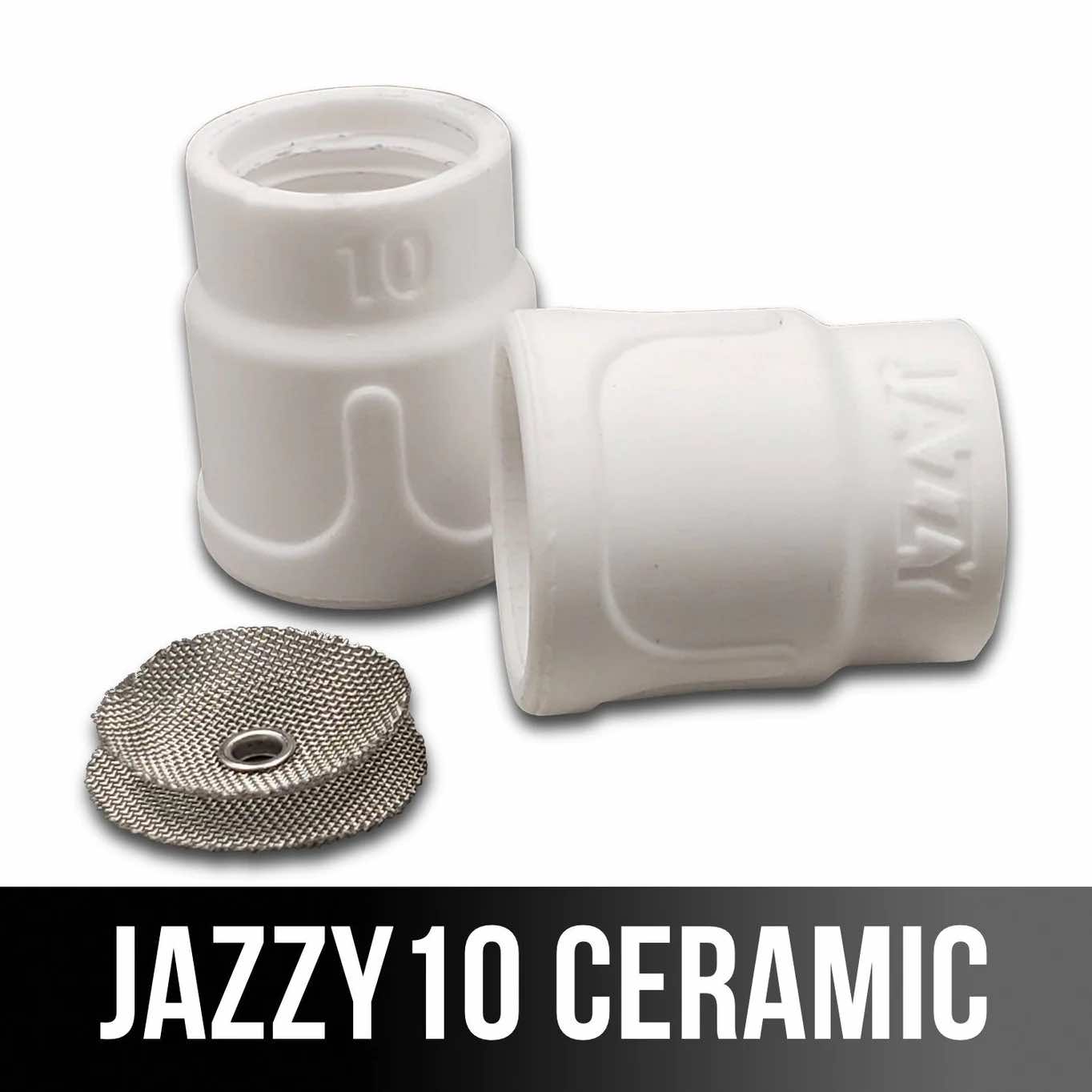 Fupa 12 ceramic for getting even better coverage when you need to use a  long stickout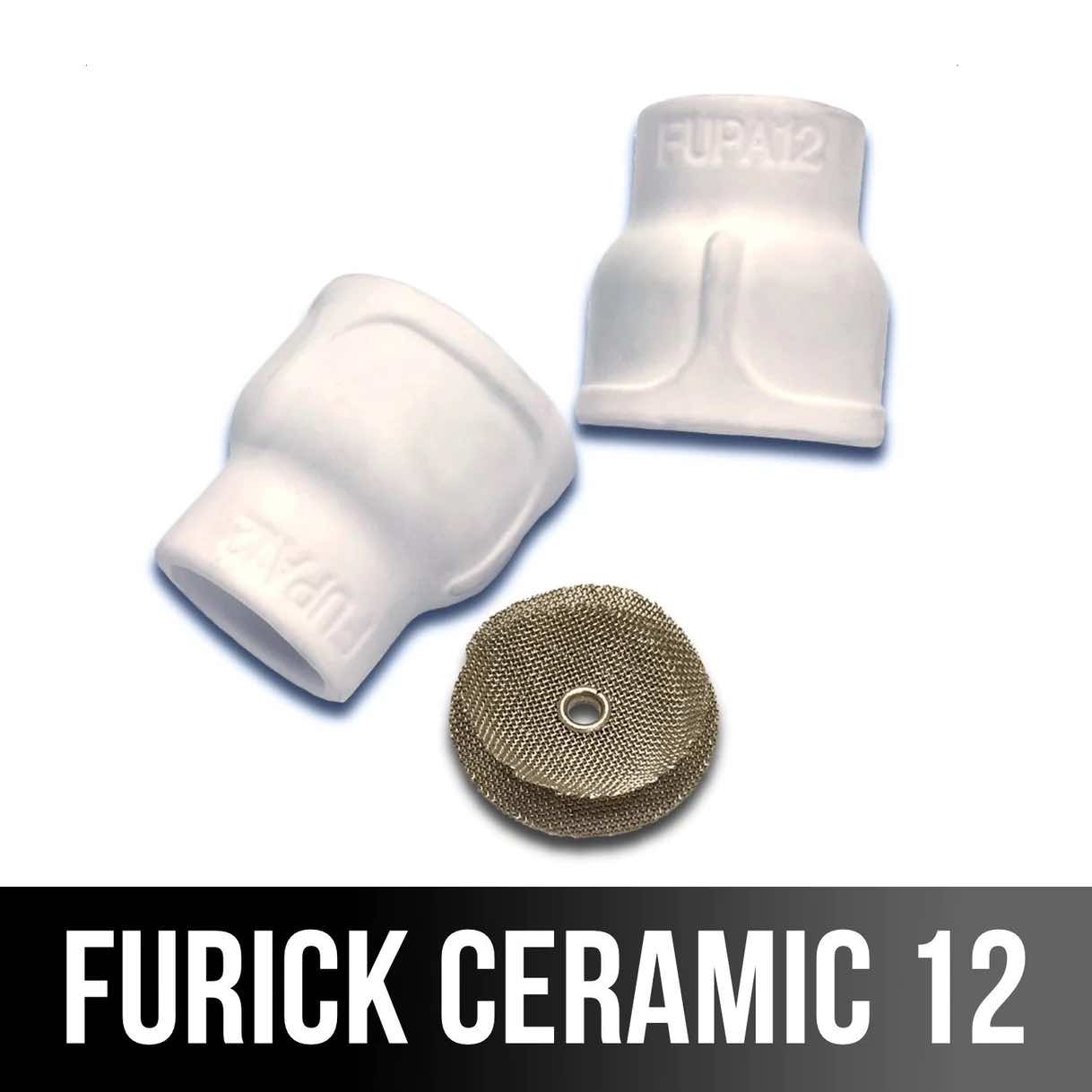 TIG pro Kit for 17/18/26 style tig torches is the swiss army knife of TIG kits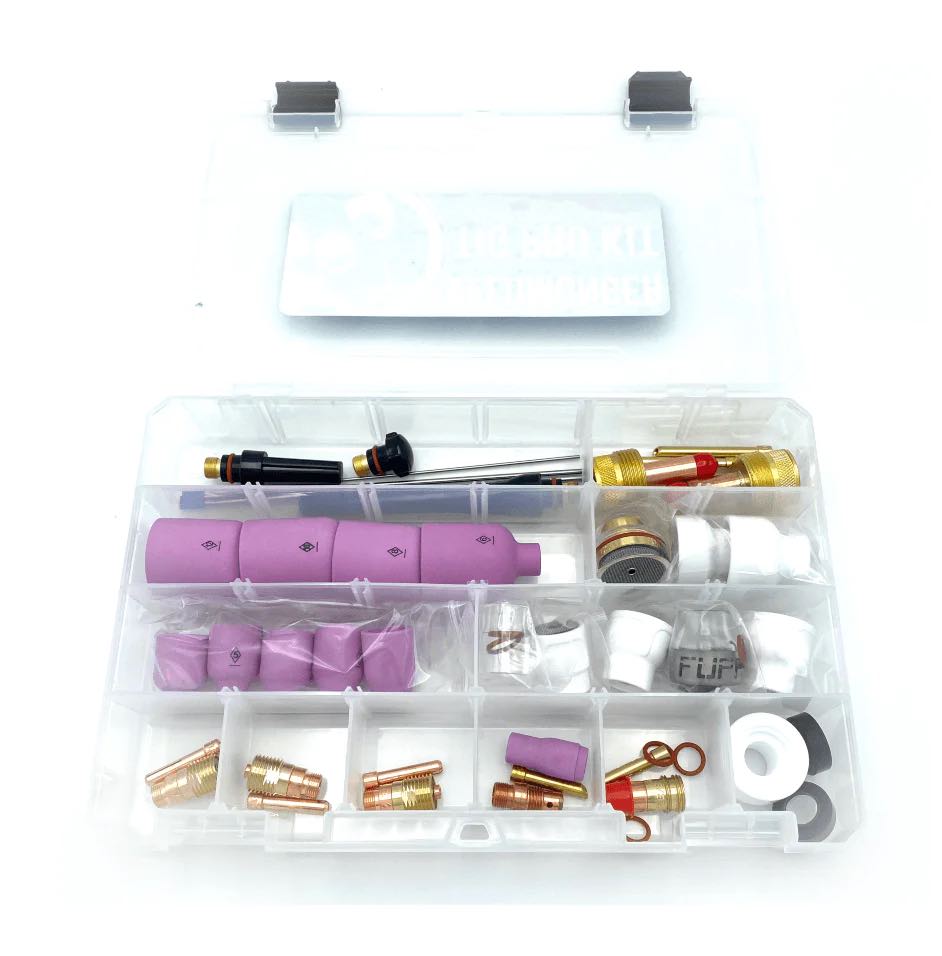 TIG pro Kit for 9/20 style tig torches is the swiss army knife of TIG kits for your small 20 style water cooled tig torch