Tips for TIG welding carbon steel lap joints 2f position

This video is about tig welding carbon steel lap joints in the horizontal or 2f position.
Credit goes to Roy Crumrine for making such a good looking weld.
I shot the arc shots myself and tried to mimic the same technique used by Roy.
I hope to make several more of these videos showing every joint and every position in carbon steel, stainless steel, and aluminum... and then some more.

Visit the WeldMonger Store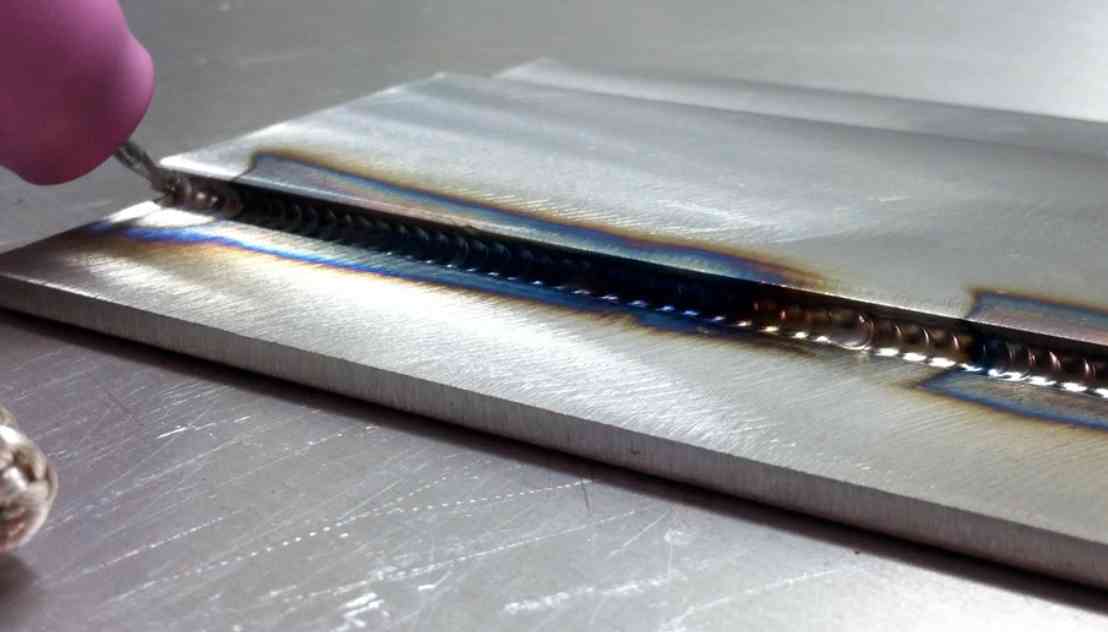 Cleaning the metal prior to Tig welding
For TIG welding, its very important to clean the metal.
But exactly how clean does it need to be?
Clean Bright metal
That means no mill scale or other residue.
Hot rolled steel needs to be ground or sanded to clean bright metal and if you are not careful, you can just polish over the mill scale giving the appearance of shiny metal.  That will show up as a bunch of crud in the weld.
Cold rolled steel welds much better because it has no thick layer of mill scale.

Even though Roy is welding cold rolled steel in this video, he sanded to clean bright metal and wiped with acetone.
Wiping with acetone is not always necessary but it sure helps.
If you are new to TIG and just want to maximize your practice time, you can skip the acetone wipe.
But again....if you are using hot rolled steel as your practice metal, you will definitely want to grind or sand to clean bright metal before welding.

3 things that go wrong when you are new to TIG

The main 3 things that I have seen new tig welders do wrong are:
too much arc length
too much torch angle
not shielding the hot tip of the filler rod

As you can plainly see in the video, when these 3 things go wrong, the weld just ....looks like Fidos Butt.

But the good news is that if you can pay attention to these 3 things, you can speed up your progress and immediately improve the look and quality of your welds.

TIG Parameters used in the video

For this video I used 11 ga crs.
11ga is around 120 thousandths or .120" thick. (3 mm)

95 amps was enough when using .045" (1.1mm)wire but when I used the 1/16"  (1.6mm) diameter wire, I was probably at 100-110 amps.
I used a #8 gas lens style cup with around 20 cfh argon
a 3/32" (2.4mm) 2% lanth tungsten electrode
.045" and 1/16" er70s2 filler  (1.1mm and 1.6mm)

key points

a tight arc, adding filler wire about once per second, and making sure to maintain about a 10 deg torch angle all help make a consistent weld on lap joints, tee joints, and most other tig welds.
It doesn't take a fancy tig welder power source to produce good lap joint welds. I do like to experiment with pulse a lot but truth is, for most welds, pulse is just not needed.

A simple tig welder like a miller diversion, a lincoln square wave 175, or a everlast 160sth would all work just fine for this application.

But one thing that does help is a gas lens setup so that you can extend the electrode out far enough to see all that is happening in the puddle...and still get good argon coverage.

Because How can you keep a tight arc if you cant even see the tip of the electrode?
more tig welding videos