Tube or Rod Welding Jig.....
by Denny
(SW PA)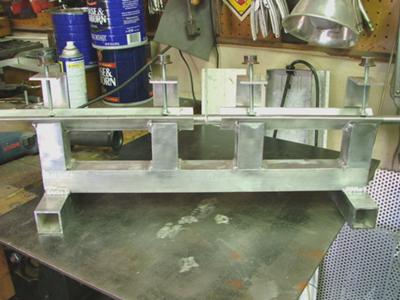 Ever run out of material, either a piece of tubing or rod, and just had a few pieces of "too short" leftover pieces?

Here's a handy jig I designed & built to weld together pieces of either rod or tubing & will handle up to 1.5" in diameter.

I made this one and one I use at work from residual aluminum 1.5" X .125 square tubing leftovers from work. I made the base first.

It is 28"L with 6" feet & end supports are 5"H. The inner vertical supports are 2"H.

The left side horizontal angle is 18"L & the right side is 12"L.

You have to cut a 90* "V" in each vertical prior to welding together. After welding the base, you place the verticals in location, set a piece of 1.5" aluminum angle, 30"L into the "V" slots.

Then clamp a piece of 1" black pipe into the angle for rigidity. Weld the horizontal angle as one piece.

Tack weld each vertical in place & tack the angle to the verticals, & then complete all the welds. DO NOT remove the black pipe when welding.

After all the welding is done, remove the black pipe & cut a 2" slot to remove the piece of angle for the welding area. This will insure that both sides are true. The (4) 1/4 X 20 carriage bolts to hold the pieces in place are threaded into a piece of alum. angle welded to the rear of the vertical supports.

The pic shows the general construction.

This jig will make lengthening rod or tube a breeze. I simply tack a bead on each side to maintain concentricity & then loosen the carriage bolts to rotate & re-snug to finish welding.

You can make this unit any size to handle the diameter of material you may use. Hope this helps some of you.