Fabricating/Welding a Mezzanine
In this video, I am visiting JD Brewers APEX welding Fab shop and he is welding baseplates on box tubing for a mezzanine build in a local factory.
According to Wikipedia, "a mezzanine as an intermediate floor, similar to a balcony.  Industrial mezzanines, such as those used in warehouses, are temporary or semi-permanent structures."
Metabo 6" grinder vs Cutting Torch for cutting mezzanine columns

I posted a web page and video recently showing how well a 6" Metabo angle grinder would cut metal for a job like this....and honestly, I got quite a lot of flack for not including a plasma cutter in the comparison.
One comment even went as far to say I was paid off by Metabo.
So let me set the record straight that I have no affiliation with Metabo. 
Here is  only reason why the plasma cutter comparison was not included...
We didnt have a plasma cutter in the shop that day that was capable of cutting 3/8" metal.  thats it.  Simple as that!
However, I recently loaned JD my Miller Spectrum 625 and so one day soon, we will be able to include result comparing plasma cuts to the Metabo.
here is a link to the Metabo vs Cutting Torch video in case you missed it

A quick Fixture for fitting and tack welding heavy baseplates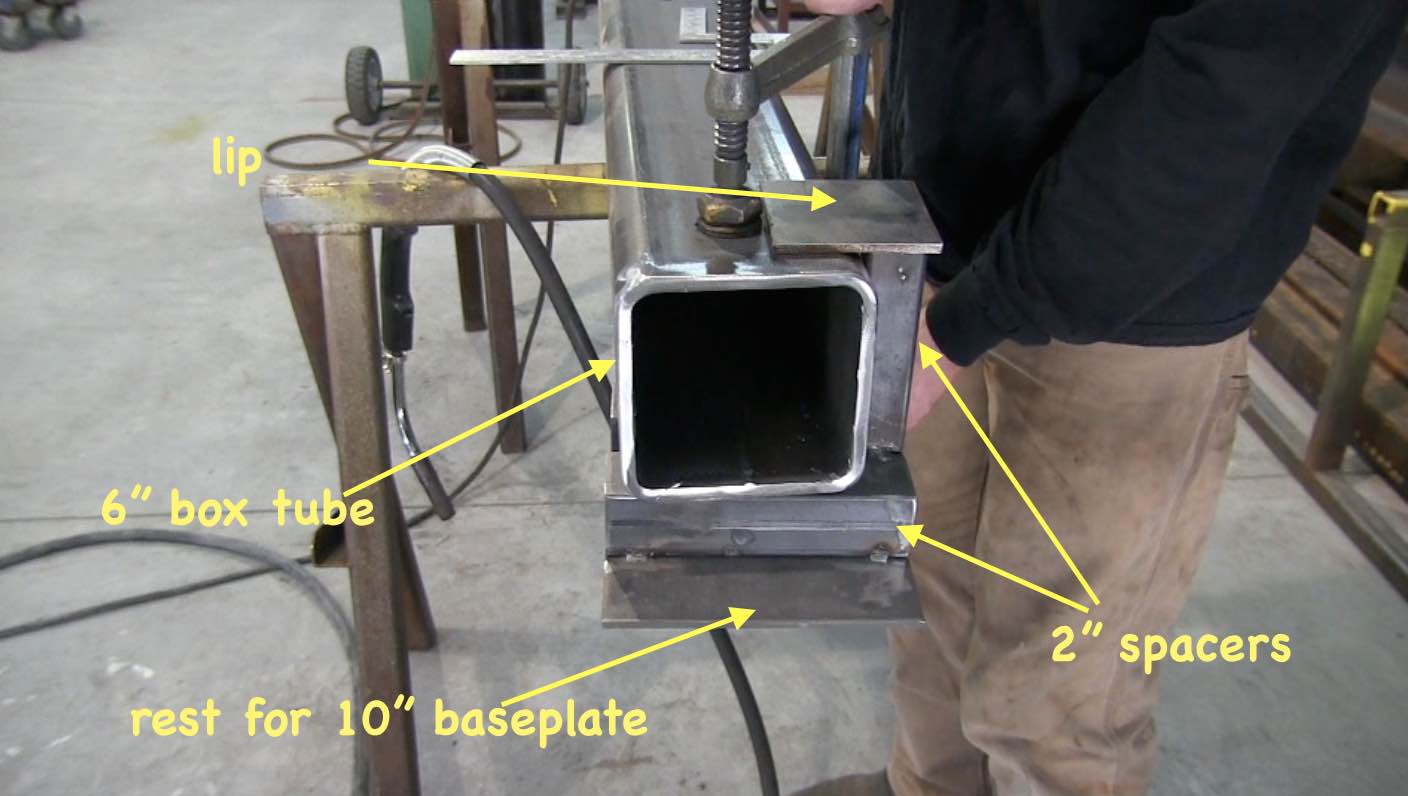 When you own a welding business, every minute saved is money.
When you have repetitive tasks, or when you are working alone without an extra set of hands, its worthwhile to make job aids and fixtures.
this quick jig helps JD hold that heavy baseplate while he gets a tack weld or 2 on it

On site Build...dollies, forklifts, chain-falls, come-alongs.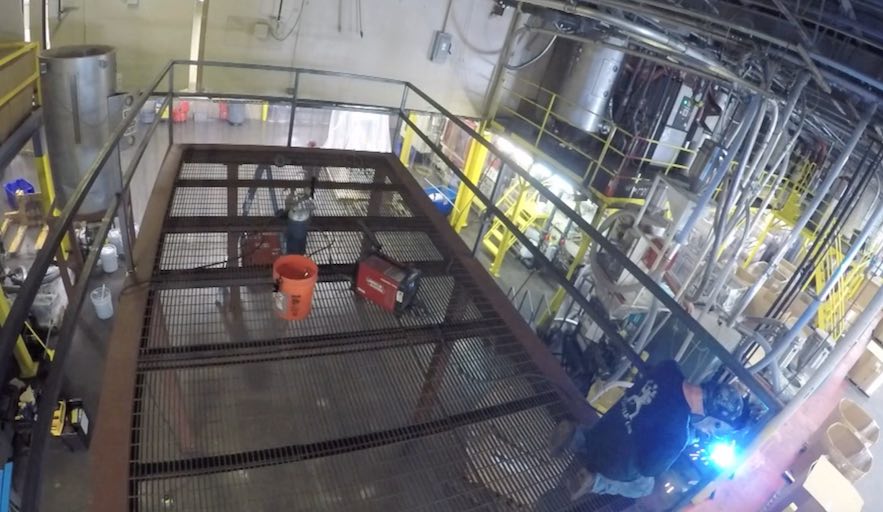 Erecting a Mezzanine on the job site involves much more than just welding.
Unloading metal, Cutting metal, welding baseplates, hauling metal to the job site, using dollies to transport beams inside the building, hanging chain-falls, pulling on come-alongs, are all tasks that are required for a  build like this.
I think it would be wise for anyone thinking welding as a career to take a peek at this video.
Its a pretty good sample of what goes on behind the scenes of a welding business.

Its just JD and his helper Wyatt making stuff happen.

JD typically fabricates all the components in his Apex Welding fab shop, and then JD and helper go inside the factory on a weekend and install it....usually in 2 days or less.
Welding the mezzanine

For the fab shop work, JD used his Powermig 256 with Lincoln 71m dual shield flux core .045" (1.1mm).  About 25 volts and 310 ipm does the trick.
For the portable on site work, JD uses the powermig 256 for the heavy sections, but on the handrails, its much easier for him to use his Powermig 210mp because it weighs only around 40lbs.