Making a Welding Cart from a Harbor Freight Hand Truck
See more Welding Project Videos

When you set out to make a welding cart, sometimes its best to start from scratch.
But sometimes its a lot easier to modify something into a functional welder cart.
I have seen a few welder carts on instagram lately and those projects gave me the idea of making an upright welding cart using a hand truck from Harbor Freight.

Now you have heard me say this already but it bears repeating.
Harbor Freight is a mixed Bag.
Sometimes you can get something really cheap that works just fine.
Other times, you get exactly what you pay for.
for example, I bought some harbor freight dial calipers a few years ago and I got them specifically for scribing lines.  You know..Dial Scribers.  
I wouldn't want to use a nice set of Starrett Calipers for scribing a line But I have no problem doing that with the Harbor Freight calipers.
And by the way, those calipers still work just fine.
On the other hand, I bought a Harbor Freight tube notcher that didnt even last through two notches before the threads stripped out.

But I decided that not much could be wrong with a Harbor Freight Hand Truck.

Making a Welding Cart out of a Harbor Freight 600lb hand truck
I bought mine for around 50 bucks but if you google "harbor freight hand truck coupon" you can probably get this hand truck for around 40 dollars or less.

PlasmaCam or cutting by hand?
I was at my friend JDs shop for this project and so we designed and cut the 14 ga sheet metal pieces out using a plasmacam.
But you could also use cardboard templates and a hand held plasma cutter to cut the parts.  It would take a bit longer, but would still be worth it.
Once the pieces were deburred and wire brushed, they were ready to fit and weld.
Using some fireball tools squares to fit up the outside corners, JD used the Powermig 210mp with .025" er70s6 wire to tack and weld the pieces.
I think stitch welding would have provided plenty of strength but we decided to weld out the pieces and then blend off the corners using a flap disc from Walter Abrasives. ( their flap discs are great)
Once everything was tack welded and square, JD welded everything up and welded the bracket pieces to the cart itself.
What is a Hel-Hook?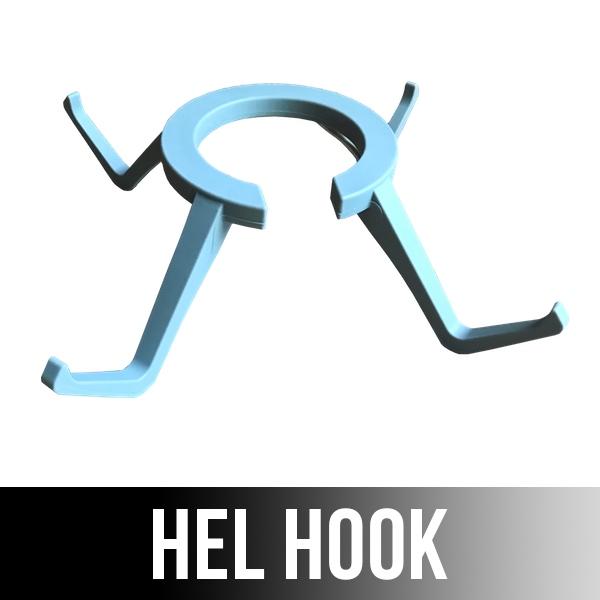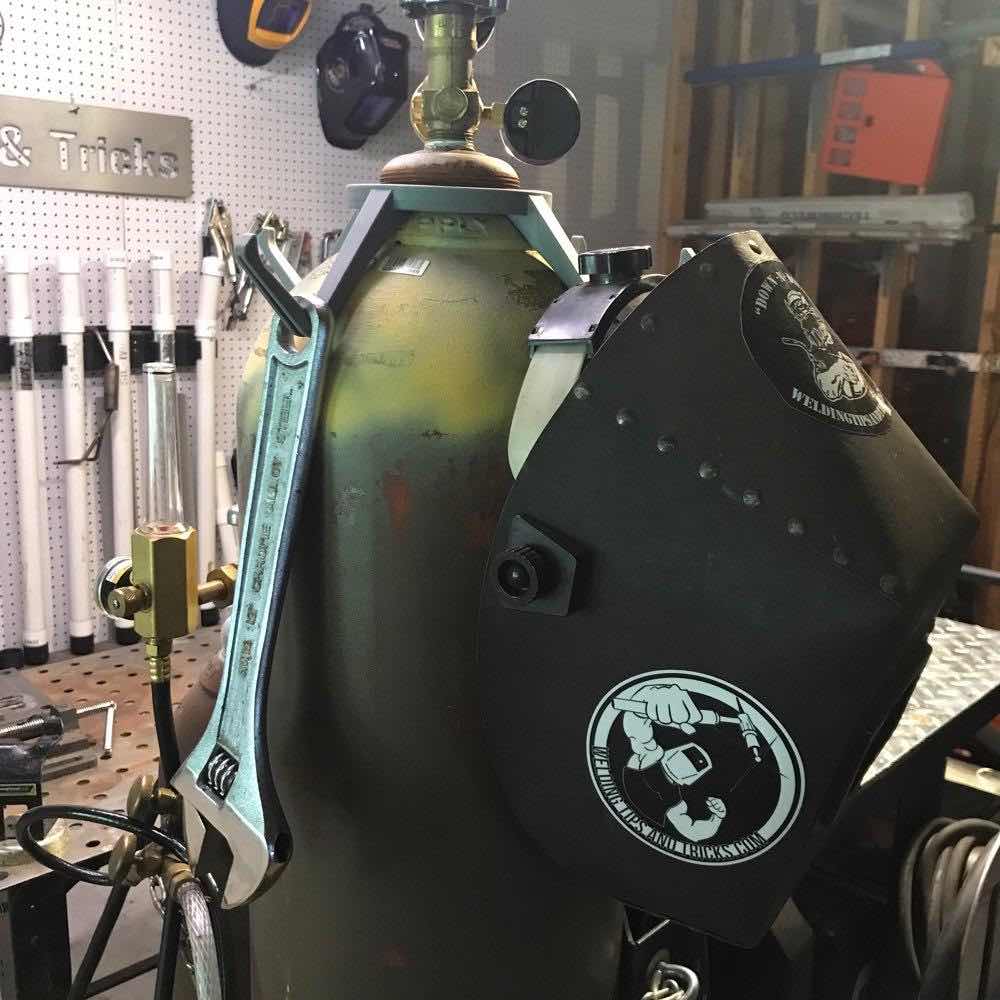 I recently added this product called a Hel-Hook to my store at  weldmonger.com
For me, its a no brainer.
I used to hang my hood on the flowmeter or anywhere else I could find.
But the Hel-Hook gives me 4 hooks to hang my welding hood, a wrench, a purge hose, and one more thing.
It is one of those things that I wish I had thought of. But at least I have them on the store now.