Welding DVD
2012 4 Disc Set plus Bonus Disc



The fact that you are reading this page tells me you are the kind of person that wants to constantly improve your welding skills.
One of the things I like about welding is that there is always something new to learn.....Always.

After working with other welders since 1977 and teaching welders for over 20 years, I have learned a few things about welders and how people learn to weld...

We Welders are a different breed.
We typically learn by watching and by doing. Not just by reading.

When it comes to welding, the best learning often happens just by looking over someones shoulder and then trying it yourself. Especially when the someone showing you is explaining things to you in plain talk.

Video can be even better than looking over someones shoulder.
Why?
Because with Video on DVD, you can replay key scenes as many times as you want.

I am guessing that if you are reading this,  at least one of the next few statements describes you.

"I learn by getting my hands dirty."
"Just show me once and then move out of the way."
"I have slight issues with authority." ( whoah, where did that come from?)

What is the one thing that makes all the difference in a good welding video?
Is it graphics?  ripple dissolve transitions in between scenes? A deep radio voice on the narration?
I have purchased a few welding DVD's myself and none of that stuff ever impressed me.

How about clear shots of the welding puddle and arc along with plain talk explaining what is going on?  Thats what makes for a good welding video.

I talked with a welding instructor recently who ordered several hundred dollars worth of welding training videos from an educational website.
The videos were horrible...He was so disappointed when he first watched them because of the college professors monotone narration and lousy arc shots.  His students hated them too so he put them in a drawer.

You wont have that problem with this Welding DVD. 
I am no College Professor.
I am a welder.
I dont use fancy terms, and I hate overly complicated explanations of anything.

But here is what you can expect in this Welding DVD set...
Over 7 hours of welding videos showing all kinds of different types of welding tasks that were done in a real job shop over a 12 month period.

Arc shots that are clear and instructive and explained by a regular guy.
a mix of carbon steel, stainless, and aluminum welding shots.



It took 4 DVD discs to fit all these videos.
But that didnt keep me from making a 5th Disc as a bonus for anyone ordering the 4 disc set.
The Bonus Disc is a Tig welding jumpstart training video. Not available on YouTube

So whats on these Discs?
scroll down and check it all out.

Disc 1:TIG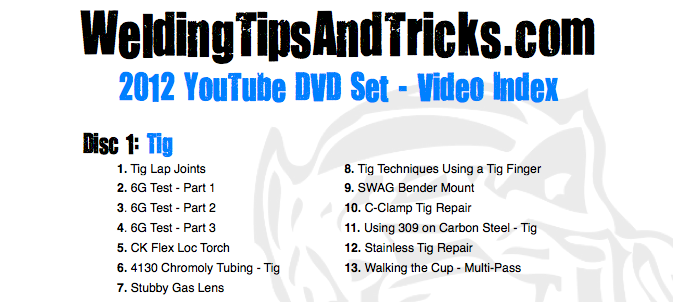 Disc 1 - TIG

1. Tig Lap Joints
2. 6G Test - Part 1
3. 6G Test - Part 2
4. 6G Test - Part 3
5. CK Flex Loc Torch
6. 4130 Chromoly Tubing - Tig
7. Stubby Gas Lens
8. Tig Techniques Using a Tig Finger
9. SWAG Bender Mount
10. C-Clamp Tig Repair
11. Using 309 on Carbon Steel - Tig
12. Stainless Tig Repair
13. Walking the Cup - Multi-Pass
Disc 2 TIG

1. Tig Stainless Job
2. Aluminum Boat Prop
3. Tig Outside Corner - Aluminum
4. AC Balance Control
5. Aluminum Lap and Tee - Tig
6. Tig Aluminum Parts
7. 1G Tig Test Joint - Aluminum
8. Cast Aluminum Tig Job Problems
9. Lift Arc Tig Welder Project
10. Scratch Start vs Lift vs HF Tig
11. Random Tig Tasks
12. Small HF Start DC Tig
Disc 3 Mig, Stick, Plasma cutting

1. Merit Badge - Mig
2. Mig Badge - Flux Core
3. Mig Edge Welds
4. Mig Lap Joints
5. Mig Outside Corner
6. Hobart IronMan 230
7. Mig Short Circuit vs Spray
8. Merit Badge - Stick
9. 7018 Overhead Tee
10. Excalibur 7018
11. Stick Welding Tips from Bubba
12. Stick Welding Laps
13. Miller Plasma Cutter - Part 1
14. Miller Plasma Cutter - Part 2
Disc 4 Welding Projects

1. 3-Legged Stool - Part 1
2. 3-Legged Stool - Part 2
3. 309 for Steel
4. Hammer Tig Project
5. Removing Broken Stud - Tig
6. Downdraft Table Project - Part 1
7. Downdraft Table Project - Part 2
8. Downdraft Table Project - Part 3
9. Steel Outside Corner - Tig
10. SWAG Bumper Project
11. Fabrication Using BuildPro Table
Disc 5 Bonus videos
tig welding jump start videos

1. running beads on carbon steel with no filler
2. beads on carbon steel with filler
3. horizontal beads on carbon steel with filler rod
4. 2f carbon steel lap joint tips
5. 3f carbon steel vertical uphill lap joint tips 
6. how not to tig
7. aluminum skill building drill
8. 3f aluminum tee joint vertical uphill
order the full set now along with the  bonus Tig DVD


learn more about how you can order this welding dvd in different combinations