TIG Welding Restarts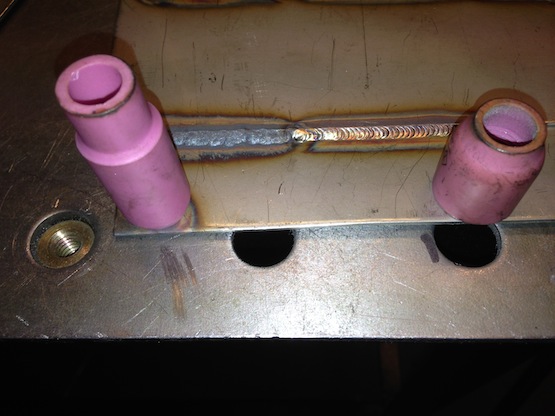 One  of the best benefits of Tig Welding is the ability to make smooth restarts.
If you do things right, its hard to tell where you stop and start.
And since weld defects often occur on restarts, it makes sense to devote some practice to making good restarts.
basically, what I do is light up dead center of the crater where I stopped…then increase amperage to the point where the puddle exactly matches the crater.  then move ahead and dab rod and resume normal travel.
you might find a way that works better for you but this is what I do.
with aluminum, sometimes the whole sequence takes a little longer but its basically the same thing.  thicker aluminum takes a few seconds to heat up.
Sounds simple, but with anything new, it takes practice.
So I would advice to just weld beads on plate stopping every inch or so so that you get as much practice as possible.
once you get the hang of it on carbon steel, get some aluminum and practice doing the same thing.
A gas lens is a very nice upgrade for your torch.
While not always necessary, it sure does help in those situations where you need to extend the electrode just a bit further.
Regular collet bodies work fine for a lot of tig welding applications but they are limited in how far you can extend the tungsten without compromising shielding of the weld bead.
And sometimes that is the difference between a grey weld that is severely oxidized...or a nice shiny weld bead.

For stainless steel, gas lenses make a big difference.
Stubby gas lens kits are designed to work with 17,18, and 26 style torches.
Not only can you get better gas shielding, but with the stubby kit, the overall size of your tig torch is much smaller and easier to manipulate.
I have several machines with air cooled 17 style torches.
Lincoln TIG 200, AHP alpha TIG 200, Everlast 200DV
And I use the stubby gas lens kit on all of them because it just feels a lot better to me.