DUAL SHIELD FLUX CORE CARBON STEEL 6 INCH PIPE SCHED 80 3/8" THICK WALL ROLLOUT FILL CAP


If you are in business for yourself where time savings adds to your profit, think about dual shield flux core for a great mix of productivity, all position welding, and quality welds.
Another great feature of dual shield flux core, is that a simple mig welder without pulse features can be used.
WELD PROCESS = DUAL SHIELD FLUX CORE, FCAW-G ( GAS SHIELDED)
METAL TYPE = CARBON STEEL PIPE
THICKNESS = 3/8" 
WELD TYPE = GROOVE
JOINT TYPE = BUTT
POSITION = ROLLED IN JACK STANDS
VOLTS = 22.5 volts
WIRE SPEED = 310 IPM
WIRE SIZE = .035" LINCOLN 71M
POLARITY = DCEP
GAS FLOW = 25-30 CFH C25 GAS
CTWD (STICKOUT) = 3/4"-1 "  
FILLER METAL = LINCOLN 71M OUTERSHIELD .035"
ADDITIONAL SETTINGS = 
TIPS:A longer stickout aka contact to work distance CTWD of 3/4" to 1" provides best results Using too short a stickout can result in worm tracks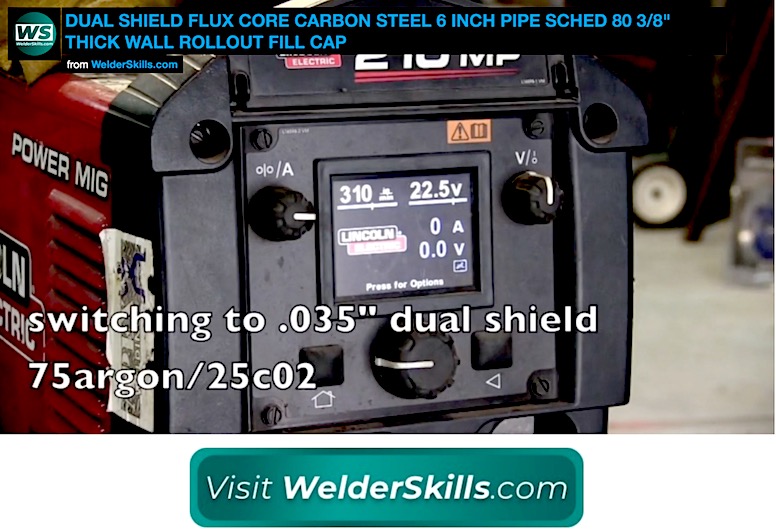 Did you know?..
There are several hundred videos over at welderskills.com from beginner to advanced... to down and dirty repair videos on farm equipment
Whether you are a student, hobbyist, or a working welder who wants to sharpen up, you can take a free trial and even get 25% off your first 3 months with promo code QS25.
Its easy to sign up…and even easier to cancel with no hoops to jump thru.
Invest in yourself,
See you in there.
Jody