Hobart Mig Welder " I Used the Absolute PI$$ out of my Hobart Handler 140 for the Last 3 years" thats a quote from a 4 wheel drive forum.
The first question is.....Is a Hobart mig welder any good in the first place?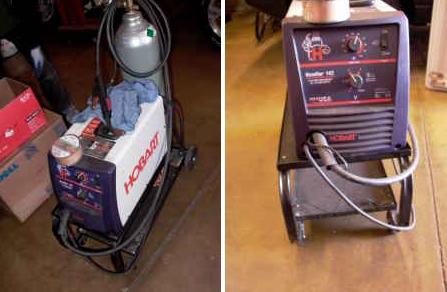 Of course they are good. Did you know that Hobart is owned by the same company that owns Miller Electric?
ITW (Illinois Tool Works). ITW also owns Weldcraft and Smith Torch Co…. two more quality companies.
Hobart welders are not necessarily made in the same plant or by the same workers that manufacture Miller welders, but they still have a reputation and a company philosophy similar to Miller's.
Its just that now that Miller and Hobart are owned by the same company, Hobart is focusing more on the hobbyist welder market.( thanks, Federal Trade Commission)

Lets explore the 115 volt line of Hobart Mig welder models first….
The Hobart Handler 125 and the Handler 125 EZ.
And also The mac daddy 115v Hobart mig welder …the Hobart Handler 140.
Here is a direct quote from one of the 4 wheel drive forums about a Hobart Handler 140 .......
"I have used the absolute piss out of my Hobart Handler 140 for around 3 years with no problems at all. For the price they are unbeatable, and I have heard nothing but good about there customer service."
So what mig welder should you buy? A Hobart mig welder? Miller? Lincoln?
Let me be real with you….It doesn't really matter much . It is almost like asking whether you should buy a Hoover or a Eureka Vacuum Cleaner...whats the difference as long as you get one that works?
If you are the kind of person that shops for weeks for a vacuum cleaner, read all the consumer reports, and then compare notes with your wife for a month before you decide on a vacuum, I am guessing that you are not reading this anyway. You probably clicked away from this website a long time ago.
what I am saying is long as you stick with the big three, Miller, Lincoln, Hobart... you will be fine. Just shop for the best deal , get the cheapest shipping if you are buying online, and call it a day.
And give craigslist a quick look just in case there is a deal out there. But a word a advice.....
You could probably find a Hobart mig welder on craigslist or eBay but you are only going to save about 100 bucks on a used Hobart mig welder.... At least the low end 115v models like the Handler 125 , 125 EZ, and the Handler 140.
And you wont have a brand new machine either.

I am going to talk about the Hobart Hander 140 first because I think it's the best deal for the money. The gas conversion kit comes standard with the Handler 140 so that is at least a 75 dollar savings.
Combine that with Free Shipping from Northern or Amazon with a price of around 479.99 and you have a really good deal on a machine that is a higher amperage output than anything else out there for the money.
If you have time and want to read further, I recorded the deals I found online for the Hobart 125 and 125 EZ…..
The Hobart Handler 125 lists for $406 on the Hobart site. Northern Tool has it for $309.99…and with Free Shipping. What???
Wait just a damn minute. 310 dollars and free shipping? I would definitely buy this one new instead of wasting my whole day on craigslist looking for a deal.
Besides new Hobart Mig Welders come with a 5/3/1 warranty.
That means 5 years on the transformer, 3 years on the switches controls and valves, and 1 year on the torch.
So if you buy new from some place like Northern Tool, you have that going for you.
Lets look at the Hobart Handler 125 EZ. The difference is that the EZ only has one knob that controls both the voltage and wire feed speed. That's pretty appealing to some people. Personally , I like being able to set both wire feed speed and voltage. I like manual transmissions too. But for a 16 year old learning to drive in heavy traffic, a manual transmission can be overwhelming.
Same with mig welders, Hobart is smart in dumbing this down for the hobbiest welder. I don't think an hobby welder ever bought a mig welding machine because he wanted to learn all about wire feed and voltage settings. He bought the welder because he wanted to weld something.
A serious drawback of the 125 EZ model is that it is not capable of mig welding with bare wire. That blows it for me. If I am buying a new Hobart Mig Welder, I am definitely going to get one that is able to run bare wire with a gas conversion kit
Its really hard to make decent welds on autobody panels with flux core wire. Bare wire comes as small as .023" and runs like butter on a good machine. Why not spend a few more bucks and at least be able to upgrade if you need to?
The Hobart Handler 125 EZ is going for about $350 on Northern Tool. Free shipping on that one too. For someone who just needs a good flux core welder and does not want to fight with voltage and wire feed speed balancing, this could be a winner. Not for me, but if all you are doing is wrought iron gates outdoors, and you like the idea of only one knob to adjust, it might be just fine.
So here is my down and dirty opinion… if you are thinking about a Hobart mig welder, and you have narrowed it down to the Handler 125 and the 125 EZ, get the Hobart Hander 125. Yes you have another knob to set, but it is upgradable to bare wire mig and costs about 40 bucks less…
which is nice...
But....If you can cough up the dough, go ahead and get the Hobart Handler 140 115 volt mig welder. Why?? Because it has more balls that's why.
and because 197 out of 197 recommended this welder in the review section of Northern Tool.com.
197 out of 197?
Don't you think if it was crap, someone would have bashed it by now.
I mean seriously, 100 percent of the nearly 200 people that reviewed the Hobart Handler 140 would recommend it to a friend.
you can shop around on EBAY for a Hobart handler 140 and you might save a few bucks but Northern has a good deal on them with free shipping.


exit the 115 v hobart mig welder page and go to mig welding tips