2G Horizontal Weld Test 7018 with backing - Welding Video
Even though sometimes a 3/32" rod is permitted on a 2g horizontal weld test... (in order to be able to get it into the bottom of the joint better.)
...I prefer to use 1/8" (3.2mm)  7018 on this test because less stops and starts are required and I can run quite a bit more amperage. up to around 145 amps, depending on the brand of 7018 and WPS ( welding procedure spec)

the down side to using smaller diameter rods is that they dont weld very far before you have to stop and make a tie in. The less stops and starts the better on welding tests and on the real deal.

visit the weldmonger store to see new products

The bend test strips for a 2g horizontal weld test - beveled plate with 1/8" (3.2mm) 7018 rods and backing strap.
Suggestion is to make all stops and starts near the middle.

A straight drag welding technique can be used but sometimes I like to use a very subtle series of U's that resemble an ocean wave if you drew it on paper. I like to pause at the top for a full second to fill in any undercut.
It is good to angle the rod slightly upward for horizontal welding so that the arc force can push the molten puddle up a bit.
The goal in laying in a root pass in a groove weld with a backing strap is to tie everything together...backing strap, and both plates so that when the strap is removed and ground flush, there is nothing but sound shiny metal...no slag, no straight line edge that hasn't been broken down, no pecker tracks that are not tied in. If the amperage is right, the fitup is right, the arc length is right, and travel speed and rod angle are right, its no problem.
Wow did i just say that? thats a lot of crap that has to go right.
I welded 3 plates in order to get enough video clips and when I finished welding, I thought it would be a good idea to cut the welds that were done at diffrerent amperages to check the penetration as well as weld integrity.
What I saw, was educational.
I know that a 7018 rod is not considered to be a deep penetrating rod.
But I welded some of the root passes at 135 amps.
You would think that since 135 is at the top of the amperage range for 1/8" 7018, that it would have penetrated more.

2g horizontal weld test macros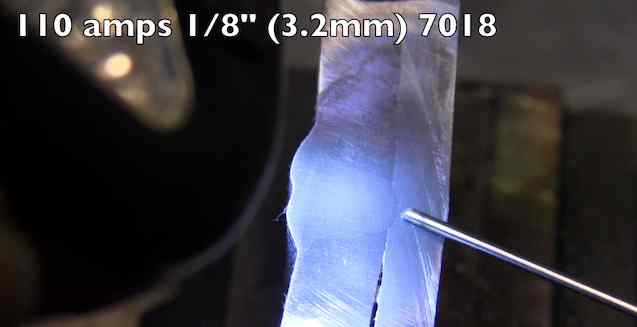 110 amps barely penetrated into the backing strap

Swab etch using loctite naval jelly ...130 amps penetrated better but I welded too far outside the bevels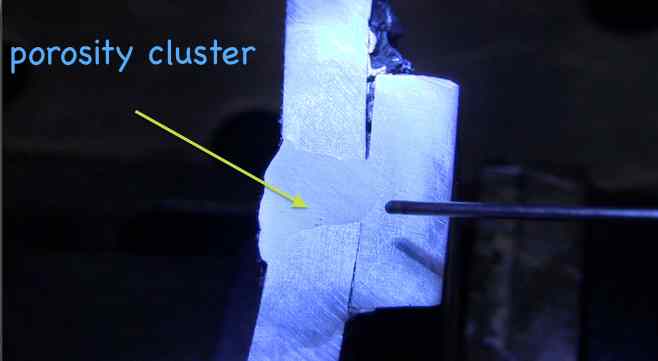 penetration is good but  a cluster of porosity showed up.
probably because I left the 7018 rods out overnight.

exit horizontal weld test see more welding videos