Mig Welding Uphill 3f LAP joint  settings



Scroll down for exact settings
The short video above shows a proven technique for getting penetration into the root of a vertical uphill 3f lap joint using short circuit mig
(gmaw-s).
The technique works because it keeps the arc on the leading edge of the weld puddle while maintaining a relatively short stickout aka "contact tip to work distance (CTWD).
Welding with short circuit mig downhill is likely to get lack of fusion for anything thicker than 3/16". 
Open butt root passes are an exception due to the beveled edges, gap, and little to zero land or root face.
This example shown in the video is 1/4" thickness and even though settings were much lower than those recommended on the machine chart, it was still a bit hot.
...the wire speed could have been lowered by 10% to around 250 for less crowning of the bead while still penetrating into the root. 
19 volts 280 imp.030"er70s6
WELD PROCESS = GMAW, SHORT CIRCUIT MIG, GAS METAL ARC WELDING

METAL TYPE = CARBON STEEL, COLD ROLLED STEEL, AISI 1010
THICKNESS = 1/4"
WELD TYPE = Fillet weld
JOINT TYPE = LAP JOINT

POSITION = 3f vertical uphill
VOLTS = 19 volts
WIRE SPEED = 280 IPM
WIRE SIZE = .030"
POLARITY = DCEP
GAS FLOW = 20-25 CFH C25 GAS
CTWD  = 3/8"-1/2"
FILLER METAL = ER70S6
ADDITIONAL SETTINGS = 
TIPS:A relatively short stickout aka contact to work distance CTWD of 3/8" to 1/2" makes a big difference.
The technique shown is simple series of upside down V motion.This technique sweeps the arc across the front leading edge of the puddle and helps ensure penetration.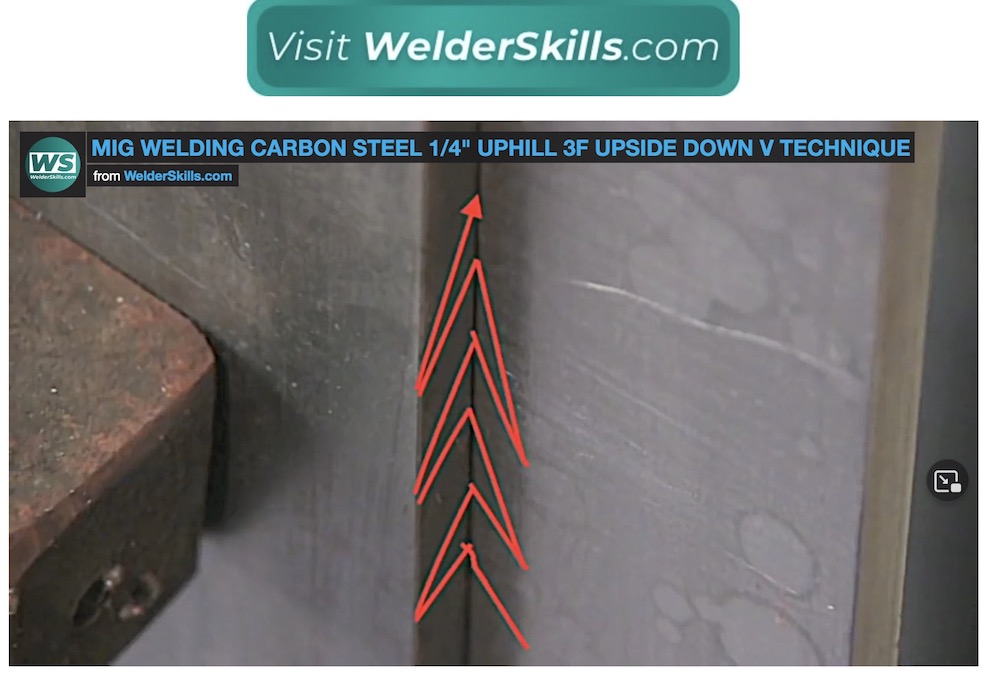 Did you know?..
There are several hundred videos over at welderskills.com from beginner to advanced... to down and dirty repair videos on farm equipment
Whether you are a student, hobbyist, or a working welder who wants to sharpen up, you can take a free trial and even get 25% off your first 3 months with promo code QS25.
Its easy to sign up…and even easier to cancel with no hoops to jump thru.
Invest in yourself,
See you in there.
Jody