Tig Welding Techniques etc.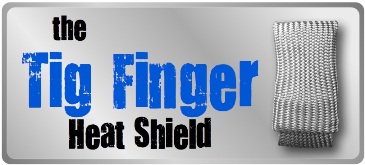 In this weekly video, I am going to try to sell you a Tig Finger.
No bones about it. That is what I am doing...without apology.
Its a great product. and if you dont have one yet....you are missing out.

And thats all I am going to say about it.

But I know in this world, in order to get something, you have to give first.  So I am going to try to give plenty of good arc shots and tig welding techniques and tips in this video.

There are all kinds of Tig welding techniques that work. But not all Tig welding techniques work in every situation.
For example, walking the cup is a great way to get a beautiful weld on pipe. But for other industries like the semiconductor industry, it is not an option. Those scratches that the ceramic cup puts on the base metal are simply not tolerated in some industries.

The lay wire technique is another example of a tig welding technique that works very well in some applications and not very well at all in others.
Aluminum Tig welding is a good example where the lay wire technique just does not work well.
For mild steel and stainless, both walking the cup and lay wire work well.
but for inconel, aluminum, magnesium, titanium, and others, neither walking the cup or lay wire work very well.

All these special alloys seem to work much better with a dip and pause welding method.
Here are a few applications where walking the cup works extremely well:
root pass in an open butt joint where the tig cup is free to wiggle in a bevel.
any pipe joint 2" diameter and above.
socket welds
And here are a few applications where the lay wire method works well:
open butt root pass in carbon or stainless plate or pipe.
both carbon and stainless joint of all types above .063" ( 1.6mm)
multi pass tig welds in carbon and stainless.

see more tig welding videos

what others are saying...

i will admit i was a little leery about these tig fingers, but glad i went ahead and ordered. got three of them about a week or so ago. they work. what else can i say about them?



i love the tig finger it works awsome im in college getting ready to do my 6g on 8in schedule 80 and i will be using it like the down and dirty sticker that came with it looks good on my hood 100% worth the money
puremichigan420

I boutght the three pack, still on the first one. I think I'll lose one before I ever wear one out.
 

I bought through Jody's site and they come in handy all the time. Great product! I gave one to a friend and working on getting the word out to all thanks Jody
 

15 bucks well spent, I use the tig finger allmost everyday,sometimes all day... Thank you Jody for the awesome videos..
 

I have a couple of these that I bought through his site and they come in handy all the time. Great product!
 

I bought three (and a t-shirt) and couldn't be happier. I weld tubing and it slides really nicely on the surface of the tube. That helps reduce any jerky motions. Great product! And thank you to Jody for all of the fantastic videos and information!
 

they don't really wear out, unless you fray them on sharp edges all day, or you intentionally burn them on glowing hot metal. I have three and I have been using them many months on a daily basis.
TwinPeaksFab in reply to dinerdude29 (Show the comment) 5 months ago
 
I've used the crap out of mine, and I love it. Thanks for all of the helpful videos!
vwangler83

John Alves on July 14, 2012 at 10:57 AM
Jody, this is by far one of the best ideas I've ever seen for welding. I work with an aircraft maintenance company in Orlando, Florida, and that means A LOT of TIG! I've tried the old school trick of cutting a stick glove thumb and putting it on over my pinky… But with all of the aluminum and chrome moly, burns were inevitable and horribly painful. I bought a TIG finger a few months back around Christmas time. By far the best purchase I made in 2011, no more burns for this guy! Thanks so much Jody for all you do, any guy that takes time in his day to share his knowledge, and teach this trade is OK in my book. I wish you the best.

 
 
Jody:
My Company is building three SCWO feed skids for the destruction of chemical weapons it has 384 open root but joints both 316L and C276 all requiring 100% RT. I tried to get the company to purchase the welders some of your tig fingers and they would not so I purchased them my self for the welders and they love them. It has also increased there quality and production. i would confidently say it is the best $50.00 I have ever spent. Thank you.

John R 



Rudi on September 20, 2011 at 8:27 PM
Hi Jody,

had my TIG fingers delivered a couple o' weeks ago, and really, they are great. Last week I had to weld a tricky steel frame with a couple of really nasty spots, and those fingers saved my behind. Without them and with only my gloves I would have had to pause every 30 seconds or so in the tight spots, with them I just went through the job like a hot knife through butter. Thanks a lot and keep welding.

Greetings from Berlin, Germany

Rudi

 
Mike on September 11, 2011 at 10:02 PM
The tig finger is the best thing you can have for welding tubing in racecar chassis !! I have never seen anything work this well, no more hot fingers or bad welds trying to finish in a hot spot this is a great product well worth the money. Love the tips on alu.

Thanks ,
Mike @ Midwest 

 
MIke  on July 31, 2011 at 1:15 AM
Holy Light speed Batman! I just ordered my first Tig Finger and the thing was in my mailbox before the monitor ink was dry on the PayPal payment!! That was some fasssst shipping Jody!

This thing is much heavier and better built that I even imagined. This is not a piece of junk folks. This is quality product!!