TIG torch holders can be a really good spend

TIG torch holders have almost become standard equipment for a welding table.
Economy TIG torch holders

Not only are they convenient, giving you a place to hang your tig torch in between welds,  but can also save you from breaking your favorite tig cup if your tig torch falls off the table.
And with all the cups we are all using these days like clear furick  cups and others...
those cups are worth protecting.
we've all been there...you lay your torch down on the workbench...you turn to grab something out of your toolbox and you trip on your tig torch cable and there goes your tig torch onto the floor.
you know the rest.... most cups break when they hit the floor.

You could always make your own tig torch holder out of some scrap metal and fasten to your workbench either with a clamp or strong magnet.
...or if you have a tab and slot type table, you might make your own torch holder with a piece of round stock that slips in a 5/8" hole so that it can be moved anywhere on the table.
But if you dont feel like making your own, or if your time is worth more than the few bucks you might save by making your own tig torch holder, then ...
You might be better off just ordering one right here at weldmonger.com

There are several ready made tig torch holders you might consider.
One that I have been using for quite a while now is the stronghand tools mrt100 tig torch holder.
The magnet is plenty strong, and I like that the mrt100 also has a place to hold the torch cable to give me just enough slack to work with without the cable hanging on stuff.

I have also started hanging a pair of mig pliers on my tig torch holder.
These stronghand pm12 mig pliers have a wallet chain for that.
pretty handy ...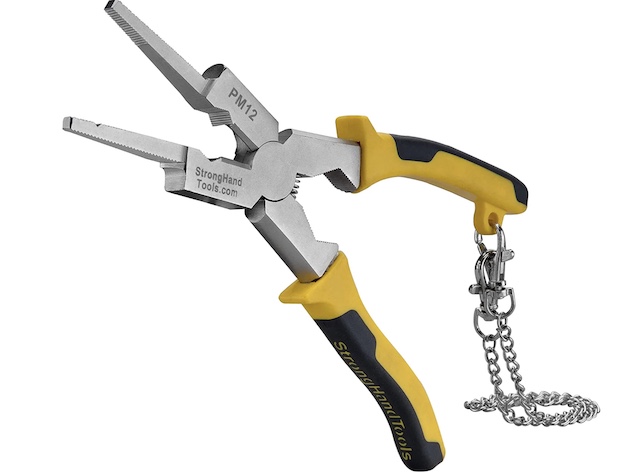 That way I always know where they are when I need to snip the tip of the tig filler rod in between restarts.
If you dont have a tig torch holder already, why not grab one right now?
at the weldmonger store