Tig Welding Aluminum .120" thick 2f tee joint settings welderskills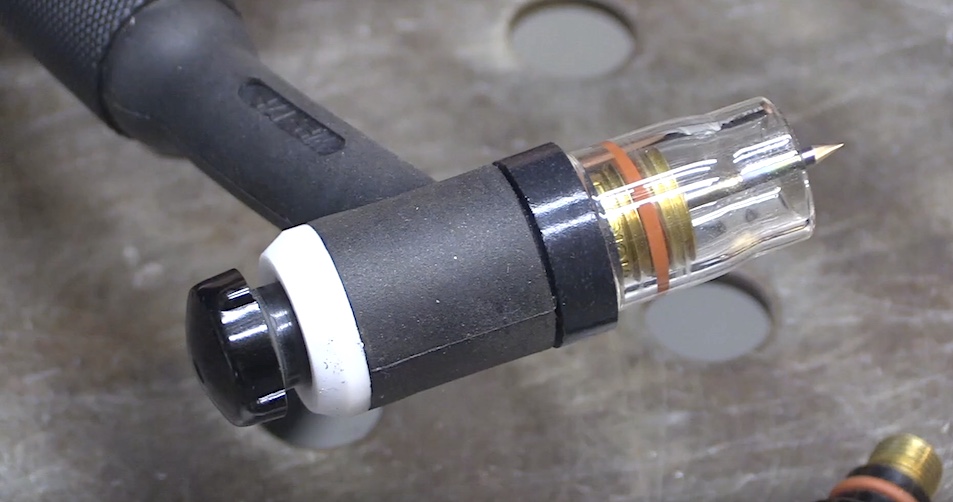 scroll down for settings

The exact settings for this aluminum fillet weld are shown below but here are some general guidelines for aluminum tig settings:
Amperage - for aluminum up to around .125" (3.2mm) thick, an amperage setting of roughly 1.2 times the thickness in thousandths will get you close. (example .100" would need 120 amps)
Tungsten size and type - 2% lanthanated is a good all around tungsten that works well on Aluminum and also Steels.  3/32" (2.4mm) is good up to around 200 amps depending on your machine type and settings.
For transformer tig welding machines, where AC balance is limited, 180 amps is a safe maximum for 3/32" 2% lanthanated electrodes.
2% ceriated also works well but does not have quite the high amp range that 2% lanth does.
Shielding gas - Pure argon is the most versatile and widely used shielding gas for aluminum.  mixing in some helium makes a big difference on anything .125" and thicker. 
A few welders I know prefer to use UHP argon. (ultra high purity) because it welds cleaner and is good all the way until the tank is empty.
AC balance - this setting differs a bit with all welding machines but around 30% cleaning will get you in the ball park.
That would be 70% penetration on some machines but some tig welders have this knob labeled "cleaning".
cleaning is % of Electrode positive because that is what provides cleaning action.
AC Frequency -  100-120hz is a good all around setting for tig inverters.
I like lower frequencies for thicker metal and higher hz for thin metal.
Did you know?...
*** We have a New TIG course learning system over at welderskills.com designed to help you learn faster, with less frustration, and with less metal.

***And that you will get Free Access to this $99.99 TIG course... included as part of your membership?

***And that you can watch as much as you like during your free week trial?

***And that if you use promo code LPZ1
you can get 50

% off

your first month after your Free 7 day  Trial?

***Its Easy to sign up

Even easier to cancel ...no hoops to jump thru.
No Ads, No BS style

Invest in yourself and sign up for the free test drive today.

WELD PROCESS = TIG, GTAW, GAS TUNGSTEN ARC WELDING

METAL TYPE = ALUMINUM 6061
THICKNESS =  .120" 
WELD TYPE = FILLET WELD
JOINT TYPE = TEE
POSITION = 2F HORIZONTAL
AMPERAGE = MACHINE SET TO 140 CONTROLLED WITH FOOT PEDAL
TUNGSTEN = 2% LANTHANATED, 3/32"
FILLER WIRE = 3/32" 4943
POLARITY = AC
GAS FLOW = 15 CFH argon
CUP SIZE =  6
ADDITIONAL SETTINGS =   AC BALANCE 30% CLEANING, AC FREQ 100HZ
PRE FLOW = 1 SEC
POST FLOW = 10 SEC
TIPS: KEEP A FAIRLY TIGHT ARC AND KEEP  TORCH ANGLE TO A MINIMUM
Aim for an arc length that is equal or less than the diameter of your tungsten electrode.Torch angle can be forgiving provided your arc length is tight.