Tig Welding 4130 chromoly tubing - A Reader Contributes TIG Pulse settings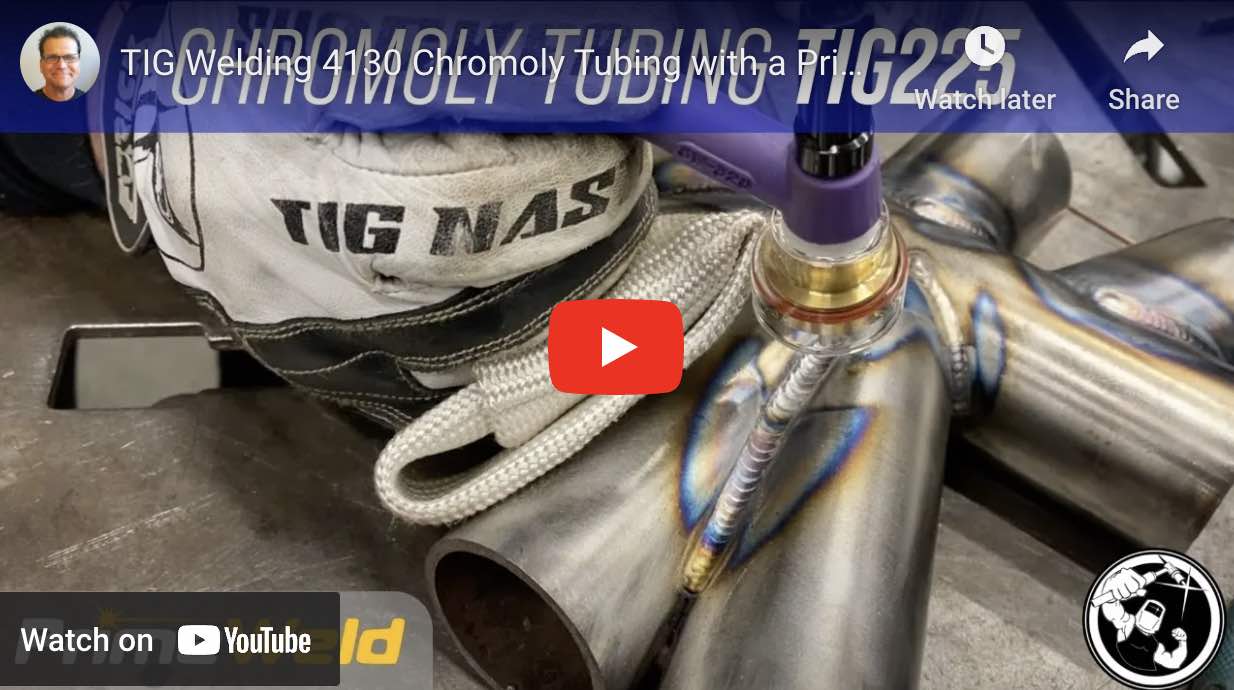 Tig Welding 4130 Chromoly Tubing
Readers Comment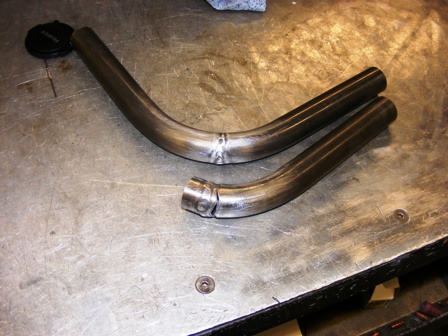 watch videos how to tig weld 4130 chromoly

I am a senior mechanical engineer at The Cooper Union As part of building an FSAE racecar (www.coopermotorsports.org) , I did some experiments to help develop the AWS code I wrote from my exam (I passed my exams with advice from your site) and for our race team to ensure weld quality.
One experiment that I found to be particularly useful was developing the auto-pulse settings for our Lincoln Tig Precision 375 (older, and not nearly as good as a Miller Dynasty 350 I know, but I survive).
I first welded a 1"x0.095 4130 tube on straight DCEN at 100AMPs max in a 6GR position, I then went though a couple different settings on the auto-pulse function and settled on 130AMP max with 60-70% peak and 60-70% on time at 18-20hz 
It helped the weld puddle flow a bit better, helped the out-of-position control, but most importantly cut down the HAZ significantly, to the point where I could grind down and bend the welded section in a manual bender with a 3" radius die.
Pardon the poor appearance of the welds, they had to be sanded and ground to not destroy the bending die. Also they've been gathering dust and grime in my lab for a couple months.
In any event, I'd like to contribute to your site as much as I can in any way I am able.
Sincerely, James CH

James,
This is good stuff....Is it me, or is there a serious lack of pulse parameter information on the net? Especially for tig welding 4130 chromoly tubing using high speed pulse. I cant understand why Welding machine manufacturers make machines that pulse all the way from .5 to 5000 pps and tout all the benefits of pulse, but then leave it to the user to figure applications.
Thanks so much for taking time to contribute. I will post this and anything else you would like to contribute.
Thanks again, Jody Collier

Thanks. I got the idea from this Miller welding article: http://www.millerwelds.com/education/articles/story166.html
I was involved with the development of Titanium GMAW-Pulsed development this summer, I will contact my boss to see if he would let me share the wave-from we developed for the Lincoln Powerwave 455 we had.
I will try to work up some more things in the next few weeks. We (my FSAE team) are making our suspension a-arms and uprights out of welded alloy steel, with some pretty interesting jigs. So I will have some good pictures and stories soon.
Regards,
James CH

James,
that's a good article but after reading it twice, I was still unsure of exactly the parameters used. A reference is made to 1 pps and it seems to be for an example. Then in a caption of a photo, 170 pps is referenced but it is not clear if that was what was used on the gun.
I am supposed to work with Miller on this in the near future. Maybe we can put out some good info for everyone.
Keep it up... and thanks again.
Update by James CH - Welding 4240 and 4130 steel uprights for FSAE team
Here is a video of the welding assembly of the steel uprights my FSAE team is using this year.
We designed and built them from scratch. The centers are 4240, machined by us students, while the panels (1/16th inch) and the ends are 4130 and were CNC waterjet cut and CNC turned by Consolidate Edison.
I welded all of them with a pulse frequency of 20hz, 75% on time, 50% background current, and a maximum current of 99 Amps (round numbers are overrated).
When I tacked the panels together I had to use filler here and there because the panels did not fit up perfectly. I found that using filler to close the gap (actually touching each panel) I could still tack very quickly. It took about 8 hours to tack and seam all four of them.
In the final parts there was almost no warping. The smaller front upright centers had a diameter tolerance of +/- 0.0015" and the larger rear upright centers were +/-0.005".
Extra material was left in the centers to be machined for a slip-fit after they are heat-treated by Bennett, they will be annealed and hardened to Rockwell C 26-30.
I can send some of the pictures if you'd like those as well.
Regards, James CH
exit tig welding 4130 chromoly tubing and see more on weldiing 4130