High Speed Pulse TIG settings for Edge build up


I love high speed pulse...But I have a love hate relationship with Pulse settings in general.

I like using over 33 pulses per second and I especially love high speed pulse for welding on or near an edge.
I am also ok with 1 or 2 pulses per second for certain applications like using a turntable.
I hate anything in between.
In my opinion, anything in between is strictly for orbital and automated welding where a welder does not have to get a headache from watching the flickering arc.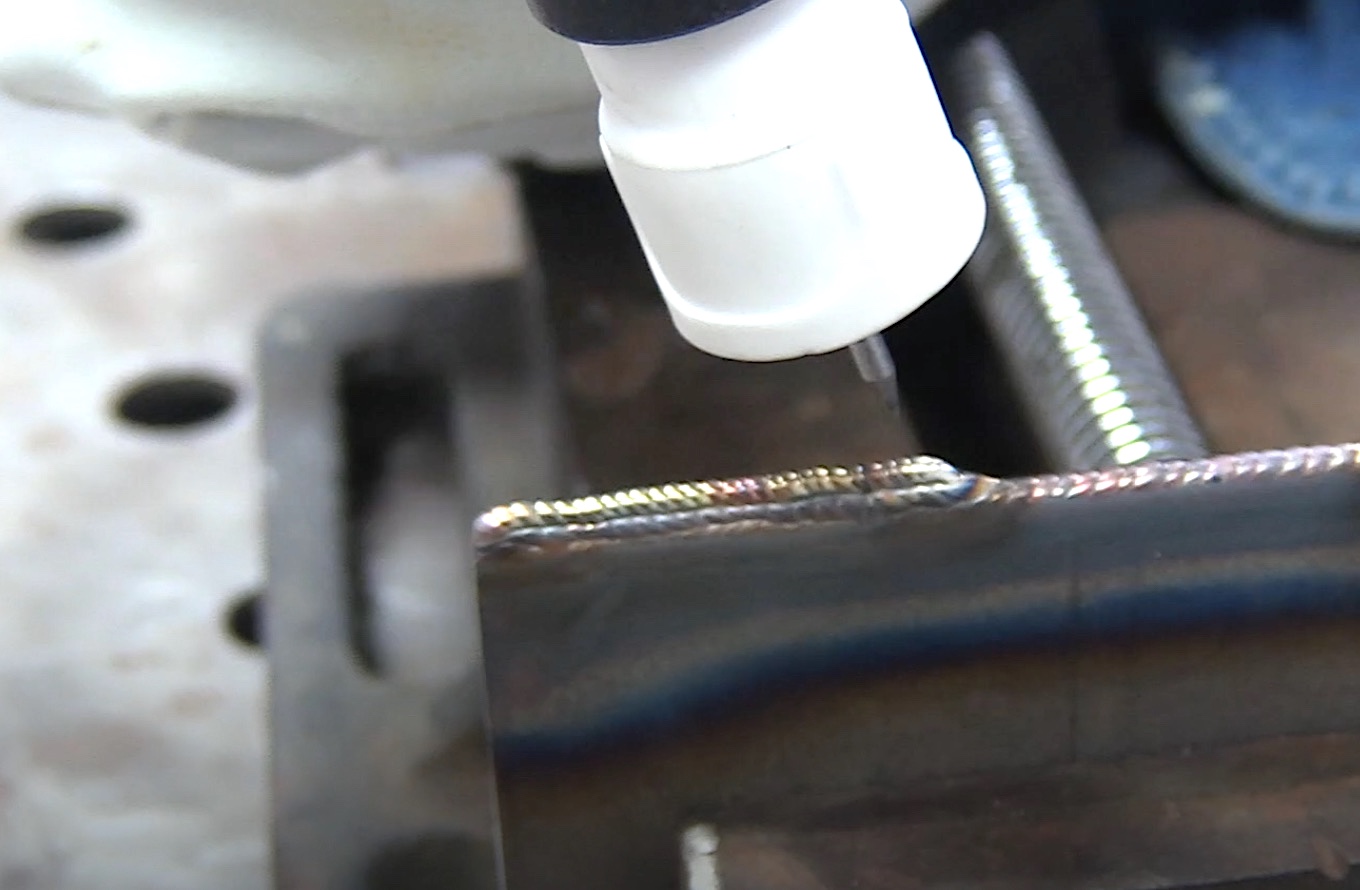 Higher speed pulses 33pps and higher are not hard on the eyes and actually are a little bit like welding on AC as far as the arc flickering a bit.
Higher pulse rates of 100 and higher really help focus the arc and work well for tool and die, and mold repair.

For this video page, I was a little bit rusty so I decided to just run a bead on the edge of some 11ga steel to show how high speed pulse settings work for controlling the weld bead on an edge.


Pulse Settings used
11GA COLD ROLLED STEEL EDGE BEADS BUILD UP

MACHINE SET TO 124 AMPS
ACTUAL PEAK AMPS 37
39 PULSES PER SECOND
30% BACKGROUND CURRENT
PULSE WIDTH fixed at 50%

#8 PRO CUP 20 CFH ARGON
3/32" 2% LANTH ELECTRODE
1/16" ER70S6 FILLER WIRE
I used a clear 8 cup for the first bead using 20cfh argon,,. and then switched over to a jazzy 10 ceramic cup with 25 cfh argon flow for the next beads.
I wasn't really planning on welding more than a single bead but decided to show how high speed pulse settings along with a jazzy10 cup work on building up an edge.
Using a larger cup with a secondary diffuser like the jazzy 10 shields a bigger area and makes for less discoloration.
Discoloration is not necessarily a bad thing by itself.
Discoloration indicates a layer of oxidation and oxides can prevent a bead from flowing easily.
In the same way that solder wont flow over an overheated oxidized copper pipe, a weld bead can be sluggish if the previous bead is oxidized too much.
So better gas shielding from a specialty cup like a jazzy 10 or furick ceramic 12 can help a lot on multiple bead welds.
But isn't high speed pulse like no pulse at all?

Nope.
Like a spray nozzle on a water hose, High speed pulse constricts and focuses the arc.
One thing to remember that since the amperage output is a function of the background current, pulse width, and peak pulse amperage, more amperage is needed when using pulse settings than without pulse.