Strong Hand Welding Table
Something that always catches my eye at welding shows is welding tables and fixturing.
Strong Hand Welding Table Company had a booth displaying the most versatile line of welding tables and fixturing accessories I have seen in a long time.
Stronghand Welding makes an awesome welding table system. What I mean by "welding table system" is that their basic welding table can be modified, added to, enhanced, and adapted to all kinds of welding jobs.
You don't have to buy everything at once and all their tools, clamps, vises, and magnets are made to complement the basic welding table.
Ok lets talk about the welding table for a minute. The strong hands buildpro welding table comes in lots of pieces.
That's a good thing.
If you have a home shop, being able to assemble the welding table and disassemble it could come in really handy. Think about it.
You could build a one piece heavy duty 1" thick top welding table that is 4' x 10', but what if you move?
You can also start out with their smallest welding table which is about 4'x3' and add to it to make it as big as you want. There is just no substitute for Smart engineering is there?
I am all for down and dirty ways to do things and have built a few welding tables from scratch myself, but still, these tables intrigue me. They make me think of all kinds of ways I could use them.
And they also remind me of welding jobs I did years ago that would have gone much better if I had a welding table system like this.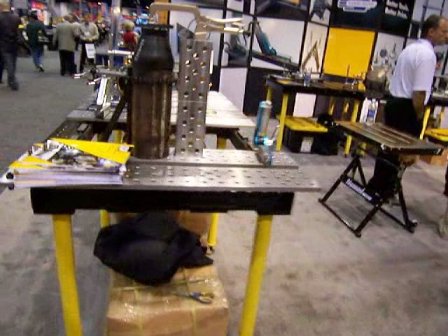 A few factoids about strong hand buildpro welding tables:
The predrilled top plate slats are .625" (5/8") thick and are 36" long by around 7" wide
The flatness of an assembled table within .004" per foot Holes are drilled every 2" and are located accurately within .00015"
All kinds of riser blocks and clamps are available to fit easily and quickly in the predrilled holes.
Did you see the adjust-o magnetic?
The problem with most magnets is metal fuzz and metal shavings. You can hardly get the stuff off of most strong magnets , even with an air nozzle. Forgetting to remove the fuzz can make for a bad angle.
These adjust-o magnets turn off and on by rotating the poles within. When the magnet is off , the fuzz falls off too.
Pretty freakin sweet if you ask me.
And did you notice the Nomad portable welding tables? You can hang them on the wall when you are done with a welding job and get them back down when you need them. That way your wife can park her car in the garage again. Seriously, let her park her car in the garage. At least in the winter. ( no offense if you are a female reading this, my audience are mostly guys)
The Nomad portable welding tables have slots in them too that accept all the stronghand clamps and tooling. The nomad tables are obviously not as heavy duty as the bigger buildpro welding tables, but if you are just getting started in a welding shop at home, they could be just the ticket to get you by.
I thought it was a cool idea to have the extension leaf in the middle too so you can joint 2 tables and get a really big welding table that can still be taken apart and hung on the wall…again so that your wife can park her car in the garage when you are not welding.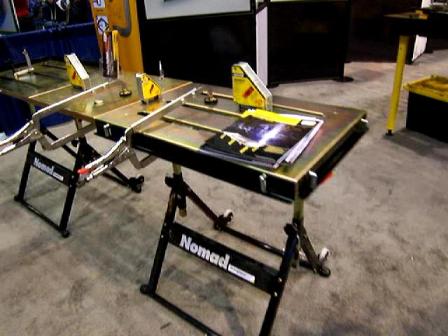 Some nomad welding table factoids:
30"x20" table top with 1.1" slots for clamping ( made from 14 ga steel) Height is adjustable from 26" to 32"
» Three 1.1" (28mm) slots in the tabletop allow for insertion of clamps to reach any point on the table.
» Tabletop tilts to three positions: Horizontal, 30°, and folded for mobility.
» Two retractable, perpendicular steel guide rails can be used as guides, stops, or clamping edges.
» Tabletop height can be adjusted from 26" to 32".
» Table moves about the work area on 2 sturdy casters.
These strong hands nomad portable welding tables are not toys and they are not like the black & decker workmate tables with plastic hardware. (although the workmate is pretty handy, I have one of those too)
The nomad welding table weighs in at 44 lbs and will hold up to 350 lbs.
The extension leaf appears to be around 24" so when 2 nomad welding tables are joined with the extension, that makes for a welding table that is about 20" x 84" that can be taken apart and hung on a wall. I am sold on this one.
In fact, I just went to Northern Tools website and ordered 2 of them. I selected the free in store delivery option to save on shipping. Like I said, these portable welding tables are pretty heavy, 44lbs each. Shipping probably would have been around 100 bucks without the in store pickup option. No problem, I like going to Northern Tool anyway. Just cant take the wife. She just doesn't appreciate the whole northern tool experience quite like I do.
But I digress, In case you think I am shooting you a line about ordering these welding tables, here is a screen shot of the confirmation page.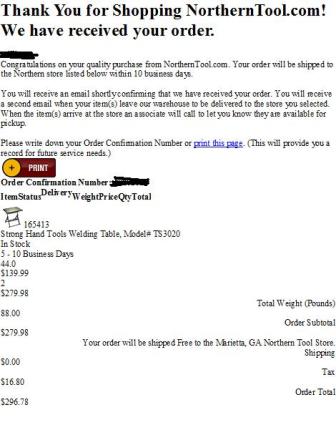 I will be doing a review on these portable welding tables when I get them so if you haven't already signed up for the weekly video updates... be sure and sign up now.
All that happens if you sign up is you get a quick email notifying you when I post another video page. About once a week and usually on Saturday morning.
You sign up with your email, and you get notified when the page is up. I just did a review on the Hobart Trek 180 portable cordless mig welder. You can check it out here to see if you like this type of stuff.
Hobart Trek 180 mig welder Review
Ok back to strong hand welding tables.
A while back I wrote a page about Jesse James using a Bluco Welding fixturing table..
Bluco is the Cadillac, but I cant afford one and if you are welding in your garage, or home shop, you probably don't need something that heavy duty anyway.
That's where the strong hand welding a fixturing tables really shine. Compared to the Bluco tables, they are very affordable. …and sill useful and dead nuts accurate.
Seriously, there is not much I have ever welded in my home shop that needed to be closer than .004" in flatness. That's pretty freakin accurate for a dumb ass welder like me.
The rest of the video shows different jobs and applications that can be done using the strong hand welding tools. A bike frame, a sheet metal weldment, several pipe joint configurations, etc.
Strong hand tools also has a variety of toggle clamps for making your own fixtures. Handy? When you have 1000 parts to fit tack and weld, toggle clamps can really help you get er done.

exit strong hand welding table page and see weldsale welding tables
Jesse James and his Bluco Welding table
stronghand builpro tables and the nomad portable table
stronghand tool buildpro precision welding table and tooling
welding stainless axles in carbon steel tubing using the Stronghand buildpro table
modular fixturing by stronghand