Tig Welding Video - tig welding motor mounts
In this Tig Welding Video, A Welderseries company aftermarket auto parts guy shows how to fit up and weld their motor mount kit for small block Chevy engines.

The mount kit is made from heavy wall tubing and plate steel that is pre drilled like a stock mount.
The mounts accept urethane bushings and are popular for the hot rod crowd. Small block v8 Chevy engines are very popular in the hotrod crowd and people install them in all kinds of vehicles like Jeep Wranglers, Small Chevy S10 trucks, and anything else they want to go really fast.
This guy is one fast welder/fabricator . In a 6 minute welding video, he fixtures, tack welds and finishes all the welding on this mount. Even the inside of the tubing that is hard to access gets welded in the 5 minutes. (with a bit of help from editing but not much)
There are a few things I want to point out in this tig welding video:
1. This welder uses a small #4 or 5 tig cup. Honesty, if you are paying for your own argon, this is not a bad idea. A #5 tig cup is 5/16" on the inside diameter. This small diameter only requires about 10 cfh of flow from the flowmeter and that saves a lot of gas. I use owners model cylinders at my shop and they are 125 cubic feet bottles. If we do the math, at 10 cfh, I can weld for 12.5 hours solid. That's a lot of welding for about 20 bucks.
If I use a #7 or 8 cup, I night need as much as 20 cfh. That's twice as much gas or half as much welding I can do with a bottle of argon.
2. Tack welds are done without using filler metal. If whatever you are welding has a good enough fit, then filler metal is not usually necessary for tack welding. On steel that is.
Aluminum is a whole different game and you can rarely get by without using filler rod to tack weld aluminum. The welder does not use filler rod and I suspect it is mainly so he can position the parts and hold them with one hand, and tack weld with the other.
This saves time and I am sure his intention in this tig welding video is to show you how quick and easy it is to assemble and weld the parts sold by his company.
3. Notice also that the welder is wearing an auto darkening helmet. This one thing will help you to work faster. Notice that he does not lift his helmet when he repositions the part. Whether tacking or welding, he just quickly moves the part to where the weld area is accessible and keeps welding. This also keeps the fumes out of your nose.
4. Even though there is some minor film editing, the entire welding time he spends fitting, tacking, and welding this motor mount is 3 minutes and 45 seconds.
Bro, You're hired.
Welderseries Guy sent me some photos of their welds...check them out and tell me what you think.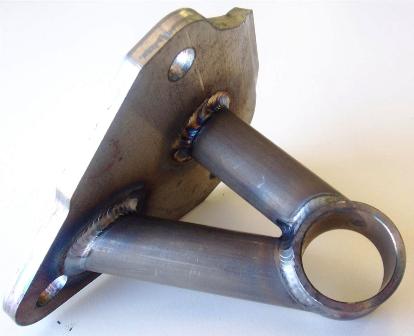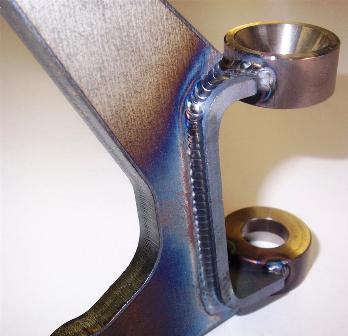 leave this tig welding video and see more welding videos and reviews welding videos - Shortage of welders
welding videos - Tig welding small gun parts
welding videos - Tig welding stainless steel
welding videos - tig welding steel
welding videos - chin operated welding helmet
welding videos - pipe welding video
welding videos - welding contest champion
welding videos - stick welding video
welding videos - tig welding chopper gas tank
welding videos - virtual reality welding training
welding videos - welding training and welding schools
welding videos - tig welding clamps for headers
welding videos - aluminum brazing rods
welding videos - aluminum brazing rods
welding videos - gas tungsten arc welding clips
welding videos - jesse james choppers and welding
welding videos - how not to weld, seriously
welding videos - tig welding 4130 chromoly
welding videos - tig welding aluminum
welding videos - tig welding aluminum bike frame
welding videos - welder shortage jay leno
welding videos - welding videos reviewed
welding videos - overhead weld test 7018
welding videos - horizontal weld test 7018