Welding Video about World Skills International competition
>
WorldSkills international is an organization that puts together competitions that allow students from all over the world compete at a skill and be exposed to other contestants from all over the world.
Ever heard the saying "iron sharpens iron" ?
The best way to get better at something is to compete against the best of the field.
I stop by the welding competitions at every welding expo I attend. I am always amazed at the level of skill attained by such young welders.
Welding Video of UK contestant at the World Skills Championship 2007 - Welding
For example, back in 2007 I saw a video about a young Stuart Greer from Lincolnshire ...who the best young welder in the UK in 2007.
Having been selected for a place on the UK team he went on to achieve a medallion for excellence at WorldSkills 2007, as well as a top 10 finish against 25 other competitors.
This short video shows the tests that Stuart had to perform at the competition - from welding a metal plate in an upright position to completing a complex pressure vessel using four types of welding. GTAW, SMAW, GMAW, and FCAW were all used . In the UK, the GMAW or mig process is called MAG for metal active gas. and the SMAW or stick process is called MMA for for Manual Metal Arc . But not matter what you call the processes, 4 of them are used on the pressure vessel test that is described in this welding video.
I have seen many of these completed tests displayed at various places like Miller Electric, Lincoln, and Hobart welding schools. I am always so impressed by what can be done by the young men and women that compete in these welding trials.
Watch the video and you will see tig welds, stick welds, flux core arc welds, and mig welds all having been done in position without being able to position the piece ...and all of the welds look great.
Pay close attention to the way the vessels are bulging. The 1000 psi hydro pressure test they undergo actually bulges the sides of 3/8" thick A36 steel plate.
Competitors at these welding trials also are required to fabricate and weld other material types like stainless and aluminum.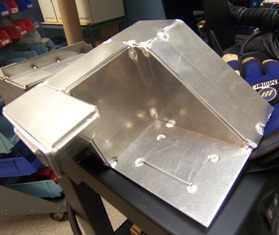 ---
exit welding video page and read about welding schools
more welding videos
welding videos - Shortage of welders
welding videos - welding contest champion

welding videos - virtual reality welding training

welding videos - welding training and welding schools
welding videos - tig welding clamps for headers
welding videos - aluminum brazing rods
welding videos - aluminum brazing rods
welding videos - gas tungsten arc welding clips
welding videos - jesse james choppers and welding
welding videos - how not to weld, seriously
welding videos - tig welding 4130 chromoly
welding videos - tig welding aluminum
welding videos - tig welding aluminum bike frame
welding videos - welder shortage jay leno
welding videos - welding videos reviewed