Uphill Mig Welding Techniques Tested and proven
"its not just the heat...its technique!.. "
"stay on the front of the puddle!.. "
"WYSS...Watch Your Stickout Sucker!.. "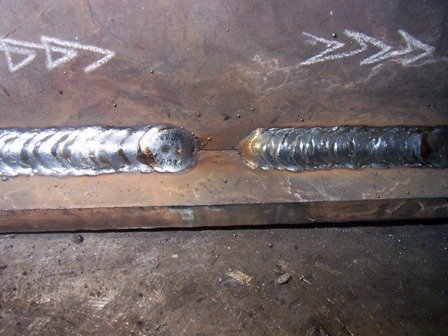 ---
I did an experiment about a year ago on a mig welding technique that I use for vertical uphill mig welding. I use it , I teach it to students...and it works.
So I put up a short video on YouTube just to see what would happen and if viewers would click over to my "mig welding tip,", and "mig welding advice" page on my web site.
I shot the clip in about 3 minutes with a camera on a tripod and standing off to the side in a very awkward position .
Thats no excuse for the not so pretty weld but like I said, I just did it as an experiment to see if people watching the video would visit my website.
For what it was...(mig welding advice and a suggestion for a mig welding technique) it was kind of successful because not only did it climb to the number 1 position in YouTube for the keyword "welding" , but I definitely learned a few things about YouTube users...
some of them are brutal.
FYI...Here are a few things I learned:
Any video or picture of a weld that you post on the internet , if not absolutely perfect, will get hammered for being the worst weld ever.
Any mig welding technique you suggest will be Wrong...and there are people who are convinced they know the only true way to weld even though you never claim that your way is the only right way in the first place.
There are as many opinions on the right technique for uphill mig welding as there are YouTube Douche bags.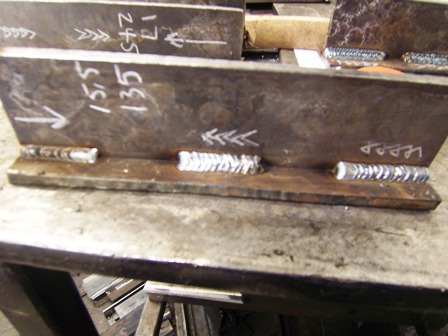 At first I deleted some of the comments that used descriptive phrases like "hammered dog shit" or "fidos ass" or "my 3 year old daughter can weld better than you", or "you would get fired if you tried that where i work"
But then my skin got a little thicker and I decided just to let all the comments stay , good, bad, or ugly.
The weld was definitely not my best work but it was a decent and sound weld that was penetrated well into the root.
How do I know that?
Because I cut it , polished, acid etched it with 5% nital acid etch and examined it under 20x microscope. Then I broke it over by doing a fillet weld bend test and examined the depth of penetration.
I have done hundreds if not thousands of tests like this on uphill and downhill mig welds. That's why I can recommend the technique in the video,
because it works!
and I know it works because of hundreds of tests. Not ONE test,,, but hundreds of tests.
Get some! YouTube Douche bags.
Let me be clear. I have always taught that there are many other techniques that work just fine. Maybe even better. In fact, this whole experience got me experimenting with the triangle mig welding technique and I may just convert. Some of the triangle motion welds looked better than the upside down V motion welds.
But The bigger lesson is that there is always more than one welding technique that works.
The best way is the way that works for you.
And Results are kind of hard to argue with.
Ok, let me get back on task, A popular mig welding uphill technique is making triangles. Basically it equates to tracing the puddle. If you think about it, here is the only difference in the 2 techniques: one traces the whole shape of the puddle, the other traces the front or leading edge of the puddle back and forth …..both good techniques.
So that got old Jody to thinking….why not run some tests using both techniques using the same voltage and wire speed settings? And why not test mig welding direction ...uphill vs downhill to see how mig welding penetrates uphill compared to downhill?
So I did.
Sure I kind of knew the outcome, but it was still informative.
All joints were done in vertical 3f position.
.035" E70s-6 bare wire
75/25 argon/co2
25 cfh flow rate
1/4" thick A36 mild steel hot rolled not cleaned at all...(still had plasma cutting dross and soot all over it)
For these mig tests , I welded with 3 different techniques:
1. the upside down V mig welding technique that traces the front of the puddle,
2. the triangle technique that traces that whole puddle,
3.and I also ran downhill on the same joint. Then I sliced and diced, polished and etched with 2% nital etch and took some pics under the scope.
5 different settings were used on a Millermatic 251 mig welder. The settings were selected right off the mig welding settings chart on the inside of the wire feeder cover.
Starting at a crazy low voltage and wire speed setting that might be used for welding auto body panels and working up to a reasonable setting of 19 volts and 320 inches per minute of wire speed for 1/4" steel.
15.5 volts----135 ipm
16.5 volts----200 ipm
17 volts----245 ipm
18 volts----280 ipm
19 volts----320 ipm
Here are the Test results: Starting from the left...Downhill...Triangle Technique.....Upside down V
Mig Technique Test #1 15.5 volts ---135 inches per minute wire speed

15.5 volts is not enough for anything but thin sheet metal. Yet the uphill welds had a bit of penetration. About what you might be able to get with a little 115 volt mig welder
Mig Technique Test #2 16.5 volts ---200 inches per minute wire speed

16.5 volts was still a little cold but I could tell it was starting to bite.
Mig Technique Test #3 17 volts ---245 inches per minute wire speed

17 volts was about enough. Not very hot, but I could see that I was getting into the root on the uphill runs.
Downhill did not inspire me.
Mig Technique Test #4 18 volts ---280 inches per minute wire speed

18 volts was the shizz. For uphill welding 1/4" steel, 18 volts was the sweet spot and the macros show good penetration but its starting to crown a little. This could be easily corrected by going just a bit wider.
Mig Technique Test #5 19 volts ---320 inches per minute wire speed
19 volts was almost too hot. A Millermatic 251 digital set on 19 volts is about like 21 volts on other machines.
but it dug in like a mugg.
Downhill still did not inspire even though it seemed pretty crisp.

Conclusions:
No matter the voltage even at 19 volts, all the downhill mig welding joints had problems. Previously, I have even tried up to 23 volts and still got lack of fusion on some joints. The hotter the puddle the more it tries to run ahead of you.
There is just not much difference in the 2 basic mig weldng uphill techniques used .
Uphill welding penetrates even as low as 16 volts, Although I would not recommend welding that cold on 1/4" steel
At 19 volts, the triangle method did not crown as much as the upside down V. But that could easily be my crappy welding on that day.
The main subject in any "mig welding basics" course should stress the difference in the way the mig welding process penetrates in uphill vs downhill welding and the quickest and easiest way to demonstrate penetration is with a fillet weld break test.
I started all the Triangle motion technique welds on the bottom edge and that helped them to build heat and penetrate . I could tell the middle welds would have done better if they had been started on the bottom.
exit mig welding techniques and see more mig welding tips
What Other Welders Have Said
Click below to see contributions from other visitors to this page...