Welding Tests and Welder Certification Q&A This welding certification forum is being put on hold. Any questions can be submitted at our new
welding forum...just click here
The weldingtipsandtricks forum is being updated and is a better place to get answers on welding tests and certifications.
Answers and Comments from Me and other Welders
Click below to see answers from other welders to this question...

Welding certification q and a
Question… My 7018 fill and cap passes on 6g carbon pipe are not visually acceptable. I'm using stringers though, but my beads are not laying down, like a"roll of nickels" what gives?... the pipefitter's local gives a 6g stainless pipe test, what are the similarities? What are the differences? between the 2 tests?

Answer … To Get our beads to lay down better on the 7018 6G pipe test, you are going to need to pay attention to rod angle. When you start at the bottom, try not to have any drag angle at all. Dead nuts straight in. in order to make that work , you are going to need to be hot enough too. A 1/8 7018 will need about 105-110 amps give or take depending on the machine. Once the rod gets burning good, (after about ½ inch of weld) really pay attention to holding a pretty tight arc. If the rod sticks, you are too cold on amperage. Keep rod angle as close to dead nuts as possible as you weld up the side of the pipe. "trace the puddle" make small circles to spread the bead a little and to give you some time to reposition your body as you follow the round pipe to the top. Stainless , same advise except, it crowns more. As far as differences in the 2 tests, sometimes the carbon steel is done with 6010 open butt, 7018 with chill ring, or tig open butt. Stainless is mostly done with tig open butt and 1 fill pass. Then stick the rest of the way out. Pretty often , its actually a carbon steel pipe welded with 309 ss rod. ASME section IX provides for using 309 for testing on cs pipe.
Question… we are a fab and machine shop. can someone tell me what it takes for me to get someone who has welded for many years to become a certified weld inspector and the costs associated? thanks,

Answer … One way is to take the online training course at http://www.weldacademy.com/index.htm and then take the exam. I think it's around 500-600 dollars for access to the course materials. But you will still need to buy a welding code book, either AWS D1.1, ASME section IX, or API 1104. AWS seminars are the way to go if there you can wait until there is one in your area within driving distance and you can avoid hotel and restaurant costs. The seminars are around $2300 all inclusive. The exam by itself is about $1000 with no guarantee of passing. Pass rates are better for those who attend the seminars. They usually run mon-fri with the exam on sat.
So if you opt for the online course for around 500-600 dollars, and the "exam only" price of 1000, you are looking at $1600 already. Now you would also need to buy an AWS D1.1 or API 1104 code book for about 200-300 bucks making the total closer to $2000. As you can see, it's a better deal to attend the seminar. Your chances of passing are better that way. Plus you will probably make some good contacts in the welding biz. I am not a huge fan of the AWS, in fact, I think they kind of have a monopoly and charge too much for code books etc.. But it is what it is. And it does make the CWI credential somewhat more prestigious. You can download all the exam schedules and pricing by going the aws page on certification… http://www.aws.org/w/a/certification/docs/schedules.html
Question… I am trying to get ready to take a 6g 2inch heavy wall stainless test. The root and hot pass are tig and the rest is stick. Do you have any tips for the stainless stick?

Answer … Since you will probably be using 3/32 rods, you will have to make a few tie-ins (stop/starts) …stagger them so that they are not all in one area Set the machine just hot enough to keep a pretty tight arc without sticking and not hot enough for the rod to be glowing red when you run a whole rod. It will glow a little because stainless does not conduct heat well, but if it's too hot, it will not run right for the last 2 or 3 inches of the rod. Always plan one bead ahead. When you are stacking beads for the second and third layers, it is easy to trap yourself on the last bead. Leave enough room between the second to the last bead and the pipe wall so that you are not trying to penetrate a tight crevice. Good luck,

Question… Hi do you give individual, welding training, interested in pipe. where are you located , I try to go to Hobart every 2 or 3 years s coning to your location is no big deal thanks ,

Answer … Sorry, at this time, I am not offering any individualized training. I am just plain too busy. Have you considered inquiring with Hobart about specialized training on pipe? You may be able to arrange a few sessions focusing on exactly what you need.

Question… I am doing a pipe test. 1 is a 4" inch pipe schedule 40, a root e7016, fill e7018, and cap e7018. Please could you tell me the setup for this test and add pictures if available. Thank you
Answer … That is kind of an oddball test. You can probably expect the joint to look something like this.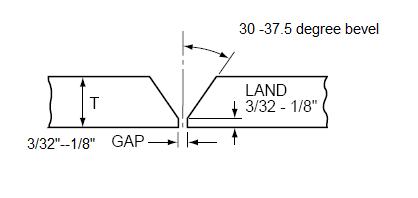 I haven't had the chance to weld any pipe using a 7016 rod. I have done a bit with 7018 on an open butt, and that is pretty tricky. I believe you will have to keyhole and keep the rod moving from wall to wall to keep it cool enough.

Question… I would like to best root pass setting for 6G rootpass using 6010 80, 85 90. thank you

answer… It really depends on the fit up. If it is kind of tight or has a heavy land, then the higher amperage will work better. I have usually been able to make 85 amps work pretty well. But on jobs where we also ran 7018, it was kind of good to set the machine at 90 amps. 90 amps would run the 6010 roots as well as the 7018 3/32" without running 300 feet back to the machine bank to change amperage.

Question… Do you need to qualify to each code? Will ASME allow an aws qualification to weld on ASME work?

answer…. Sometimes. There is some overlap between aws and ASME. Essential elements still have to be met so it is kind of a case by case comparison.
Question… Jody, great site you got. Enjoy the knowledge you share. I just busted a 6GR root and need some help. Been welding off and on since 1975, mostly on casing or structural offshore. Went to pipe school at Lincoln long time ago. Where can I go to learn how to: put in a root and pass a 6GR Test? I can do the rest, the test is bitin my ass. Thanks
Answer… 2 thoughts, One is to call Hobart and ask if they could set you up a block of time 800-332-9448 . It is kind of high, but it may be worth it. The other idea is to check the list of AWS accredited facilities and call the closest ones and ask for help. It won't cost anything to find out. 
Question… Hey I have a question for you. I currently live in Tennessee and lost my job back in February. I am a welder but have never been certified. I would like to know where I could go to do the welding test only. I have lots of experience doing TIG, MIG, Stick and Flux core welding so I should pass with no problem. Also, are there any local unions in Tennessee for welders? Thanks for your time,

Answer… Check the list of AWS accredited facilities and call the closest . Last time I checked there were not any located in TN. You may have to drive to GA, or FL or wherever. I would call and get the skinny first. Sometimes they have standard tests and do not vary. Other times, you can call the shots and specify the test you want. You can find the list of aws accredited test facilities here. http://files.aws.org/certification/docs/auto/atf_listing_0706.pdf
I am not aware of any unions that are strictly for welders. Welding always goes with some other craft…like pipefitters, boilermakers, ironworkers, and sheet metal workers. All of these should have local unions located in TN. Just google "TN Local Union" and the word pipefitters" or "boilermakers" and you should find what you are looking for. An apprenticeship is sometimes required but many local unions now give credit toward becoming a journeyman if you have prior welding training.
Question… I am preparing for a 6g carbon tube test and I just can't seem to get the wedding band on the inside during the root pass. I run 1/8 tungsten, 3/32 filler rod, about 25cfm argon and right around 90-95 amps could you give me some pointers; I was kind of hoping you would tell me what you would start off with in that situation. I am not sure if it is my torch angle or what. I just can't seem to get the filler to flow though to the inside even with a 1/8 root opening and I feel like I am jamming wire the whole time and nothing. THANKS FOR THE HELP ------------------------------
Answer…
A few things that will help... fit up. use a 1/8" gap prep...37.5 degree bevel with no land clean metal back at least 1/4" to shiny bright metal with no rust, or mill scale don't use any more side to side weave than possible...in fact if you are free handing or hot fingering, keep the tungsten pointed right on the tip of the 1/8" wire. Don't use much torch angle
what I am talking about here is called lay wire. A 1/8 gap with a 1/8 rod. Actually the gap will be just under 1/8 so the rod lays in without falling thru. You just wiggle the torch slightly while bearing down on where the rod meets the puddle. A little slight pressure from the filler wire hand keeps the rod in contact.
if you are uncomfortable using a 1/8 rod, follow the rest of the tips and dip the 3/32 rod using just barely enough heat to start to see a keyhole. the puddle will be cold enough to follow your tungsten as you move side to side to tie in the walls.
make sense?
Good luck,
Jody
exit welding test Q&A and go to welding certification